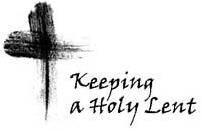 While taking our dog for a walk yesterday, I could see how much the snow had melted. It made me wonder how the pristine snow had covered so much stuff. There were coffee cups, bottles, food and candy wrappers, even a diaper.
It's interesting that the snowmelt comes during lent when the church provides a season to determine the kinds of stuff we've been collecting, harboring, and covering up over the past year. Some habits and feelings have increased in intensity. Sometimes it's a matter of judging those around us and expressing our ideas to others. It's not quite gossip but pretty close. Perhaps we've become a little too reluctant in helping others, or on the other hand, giving so much of ourselves that we don't have time to recover and pray. And of course there are the indulgences…overeating, overspending, or over texting to the extreme.
But here it is lent; not merely a time to give up chocolate but a time for introspection and cleansing. It's truly a time to develop new habits. It's a time to resensitize ourselves so we can reach out compassionately and thoughtfully because we know how easy it is to let mistakes become habits.
It makes perfect sense that so many of us are eager to receive the sacrament of confession during lent. What better way of concluding our time of reflection and soul searching than by asking God for His healing and forgiveness. Just as we clean the trash along the road enabling new life and beauty to come forth, so we are cleansed, ready for new life, and a new year. So as I ponder all these things, I wish for one and all a productive and growth filled lent. Let's pray for each other on our journey toward Easter.
Read More