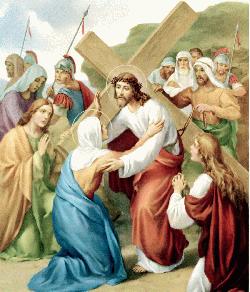 As Mary reaches for Jesus as he carries the cross, who could not appreciate her pain and helplessness. There are no words to say anything. There is only love and compassion to share.
Yet this must have been a difficult journey for her to take. She was told by the angel that she was to conceive a child who "will be called the Son of the Most High, and the Lord God will give him the throne of David his father…and of his kingdom there will be no end." (Lk 2:32) But here he was suffering, and on his way to death.
How can all this be? How can she incorporate this into her mind even if her heart and soul trusts God's word?
Carol is a friend of mine who has a 26 year old daughter. This child was filled with talent and promise from her earliest days. She delighted in life and in her siblings. All the children were homeschooled and grew up in a solid Catholic faith. Zoe would spend summers in an acting class when she was young and assisted other children as she aged. She would also help her siblings to create puppets and wrote plays that they could present before the school year began. She excelled at college and was such an inspiration that upon graduation, she was hired to work with the admission office and visit high schools as a representative of the college.
Then things began to change. She lost a severe amount of weight. Her faith, which had always been strong, now became her obsession. She spent hours on her knees praying. In time, she could not function because of her behaviors. As she returned home, her behavior became more problematic. She could stand staring at a point in the yard for hours without moving. She heard voices and began to be verbally and even physically abusive to her family members. In the end she was diagnosed with schizophrenia with religious ideation.
What happened? Her parents handled her behavior and diagnosis in different ways and over time, separated. How could her mother now cope with this child who was not the same? How could she let go of her expectations and accept who Zoe was now? How could she separate what Zoe needed now versus what she "should and could" be?
Whereas Mary came to a better understanding as Jesus suffered, died and arose, how can Carol come to the same point of acceptance and understanding? We can't always understand how the Lord is working. We cannot see life in perspective.
May God give us the strength to believe when believing is most difficult and to persevere when prayers seem unanswered.
Read More