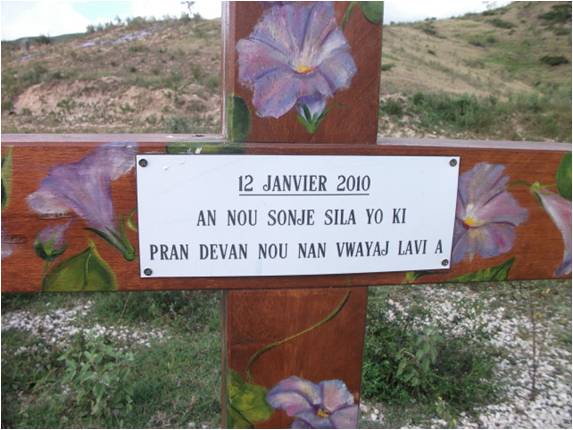 Cross marking the grave of 200,000 victims of the 2010 Earthquake in Haiti

"Mother Mary, you know what it is to see your Child suffer and die, help my suffering child." Certainly over the centuries this has been a very common prayer to Our Lady of Sorrows. It was around the 12th century, when the Black Plague took about a third of the population of Europe, when this particular devotion to the Blessed Virgin became very common. In some ways it was a time like our own: "the High Middle Ages", when big steps in knowledge and culture were being taken, was also a precarious time of disease, massive poverty and war.
As people, in their suffering, identified with Mary, the Sorrowful Mother, they also trusted that she can truly do something to help!
Scripture, particularly the Gospel of Saint John, shows us that from the time when she said YES and became the Mother of God, Mary was completely united, heart to heart, with her Son to the point that she shared in His Passion. Finishing the work of Salvation on the Cross, He gave Mary to us to be the Mother of all who believe, the Mother of the New Creation. This is not simply some abstract idea: she IS the Mother of our faith, helping us on the journey, surrounding us with God's love and grace in very concrete ways!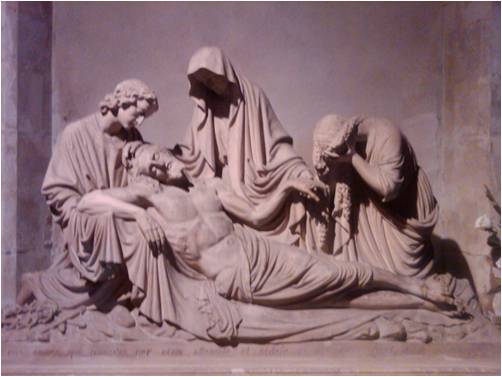 Sculpture of Mary with the body of Jesus in Le Mans, France
For almost 900 years people have celebrated this feast on September 15, the day after we celebrate the Exaltation of the Holy Cross. This day we renew our awareness and gratitude that the Sorrowful Mother is indeed the Mother of Mercy and the Mediatrix of Grace . She only waits for you to let her in, together with her Divine Son, any day and each day.
Holy Mother, Our Lady of Sorrows, we join with you in prayer, remembering all our loved ones, especially those most in need of the Lord's love and healing. Help us to unite ourselves, like you, with Christ on the Cross so as to share in his Resurrection.
Please share your prayers with our worldwide prayer community. Click here for the Family Rosary prayer intentions page. Let us keep one another in prayer.
Read More