Reflecting on the news of the passing of Father Willy's brother and the sorrow that it brings also makes me marvel over the sibling experience. Unlike friends who may come and go in our lives, siblings are forever. Surely there are those who don't nourish adult relationships with them, and others who have lost their siblings through death or happenstance, but nonetheless, they have made a mark on our lives which cannot be erased.
I see how my relationships with my sisters have changed over time. As youngsters at home we were more competitors than friends. We fought like banshees to my mother's consternation. Over time, we each went our own way, still in contact but living quite different lives. Now, we have moved from all the other kinds of relationships we have had over time, to friends. Regardless of our ties and individual experiences, their mark is indelibly part of my life; part of what made me into what and who I am.
No one else can ever share this unique space or understand the ramifications. It doesn't really matter if our siblings die when we are 5, 25 or 60 … or even 80, there is something gut-wrenching about the loss even if it is taken as if "life goes on." Sometimes it's a silent loss as in childhood when the grief of bereaved parents is so overwhelming, the remaining children are more concerned about parental loss to grief than their own loss of a sibling. Over the years I've been amazed at how siblings still cry or remain muddled over this loss that happened years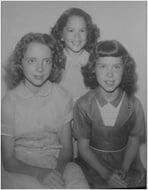 Perhaps, as with most losses, especially as we age, we don't like to think too much about it, knowing that sooner or later our time will come. There are some who lived before we were born so it only seems natural that we will have years without them as well. But as with all losses, there may be an empty hole, and no one else will ever fill that hole. ago.
Sometimes it is good to examine our transitions and evolutions. It's always nice to let those closest to us know the impact they continue to have on our lives. I am forever grateful that my sisters and I have lived long enough to love and appreciate each other so much.
Read More