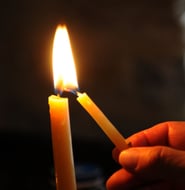 June has always been the month we celebrate fathers. But for some families, a father's illness can make this time sorrowful; filled with suffering and heartbreak. Father Hugh Cleary, C.S.C., shares this beautiful prayer with those faithful families who are caring for an ailing dad. We pray it brings hope and comfort to those who need it.
Prayer for a Father Who is Sick
Dear Father in Heaven, in my heart, I come before you with an urgent need. My father is ill. My father, like you, lives in my heart also. His illness troubles me, saddens me, makes me sick of heart. I seem so powerless to heal him and restore his health.
I think of him as strong and vibrant, always the one I could look up to for help and strength in my need; always there for me with his comfort, advice and wisdom. And now he needs me at his side to be a strength for him in his suffering.
I remember when I was a child how he told me that the greatest sadness he and my mother felt was their inability to take on my sufferings as their own, in place of me, for me, when I was ill. And now I know how they felt. I hate to see my father suffering. I want to take his illness as my own so that he might be free of this all too heavy burden. I would gladly suffer in his place as he wished to do for me.
The body betrays us all, Lord, first in its promise of life, growing and maturing in strength, carrying us through this beautiful creation of yours and then, in time, with age and illness, faltering, fading, dying.
But I see the strength of spirit in my father, the strength of his life, still wanting to live for me, caring for me even in his own need, teaching me that love is the medicine that reveals our ultimate strength and purpose of life.
Bless him, Lord, in this time of illness, and bless all of his family, to be at his side with our abiding love for him as he loves us. Thank you Father, for the way he instructs us in all the great lessons of life, teaching us to live in the great mysteries of life with strength and courage. Amen
Visit our e-prayer site often throughout the year – www.PrayersForFamilies.org - for a selection of short prayers you can send to your family to celebrate and support them.
Read More