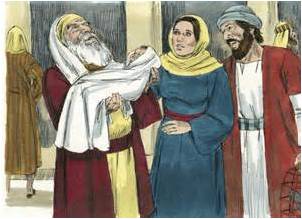 We usually think of the Presentation in the Temple as a Joyful Mystery. And so it is. Mary and Joseph bring their first born son to Jerusalem to present him to the Lord. Here Simeon and Anna are both so grateful to have lived long enough to greet this child.
The sad part is that Simeon also warns Mary that her own heart a sword shall pierce that the hearts of many will be revealed. (Lk 2:22-25)
In many ways this is true of all infants. Usually, there is celebration over the birth. Parents are proud and pleased to share their joy. They are also very busy tending to the child so they haven't much time to think of the future. Yet they surely know that much pain will also come to them along the way; the child's first fall and injury, being hurt by other children in school, being exposed to drugs and alcohol, and making poor decisions.
We know these difficult times don't often come in huge doses all at one time but any one of them causes significant pain and part of that is the knowledge that they as parents, are not really able to protect their child. Their helplessness adds to the pain.
Then there are those who anticipate their pregnancy with joy. They rejoice with everyone as their child is born but then they realize their child has a handicap, or they are diagnosed with cerebral palsy, cystic fibrosis or another such problem. The joy is now enveloped by pain. Those who once were ready and eager to rejoice with them, now don't exactly know what to say and they back away.
It's important that we remember that every child has a value and is worthy of our joy. Every child enters the world with his/her own gifts and challenges. Let us not falter in our love and encouragement because of physical impairments any more than Simeon and Anna held back their love and praise. May we support every single aspect of life, praising God for His wonderful gifts and knowing that only He can really surprise us through our confusion and pain with the joy of a future and resurrection.
Read More