As we begin this Advent Season, we are reminded of the words the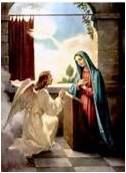 angel Gabriel told Mary "Be not afraid." (Lk 1:30)
We know that when the angel appeared before Mary she was frightened and did not understand what was going on. Yet she was aware of God's presence in her life. Once the angel spoke these words – "Be not afraid" – Mary said yes and without hesitation, confidently responds "May it be done to me according to your word." (Lk 1:38)
During this week let us think of the ways we are being asked to follow the words of God and reflect on how we respond to what is being asked of us.
A couple years ago I was asked to be a medical proxy for a good friend. Since saying yes, I have been present to her needs and there have not been too many areas that have been difficult to live.
However, over the last week, she has become weaker and her illness has become more complicated. Now there is a need for me to become more actively involved in her care. There are major decisions that need to be made and it has not been an easy road to walk.
As I reflect on the strength and courage of Mary's yes to what was being asked of her, I have asked God for the grace to be faithful to my yes to my friend in her time of need.
Where do you find the strength to say yes to what is being asked of you at this time? How do you connect with Mary's yes and your yes to God?