This week has been very exciting with the World Cup soccer games taking place in Brazil. Fans are gathering together to cheer on the players, show pride for their countries and enjoy their favorite sport. The streets are crowded with people from all parts of the globe. Visitors are chanting about which team is better and which country will win. There is plenty of positive energy being shared among so many faithful fans.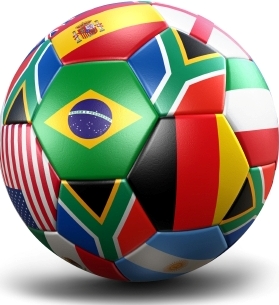 As we watched the United States play Belgium, I could feel the excitement build. As we watched the goalie from the US play his best in blocking shots, the enthusiastic crowd seemed to get louder and louder. Although he did his best, the US lost their chances to win the championship. After the game, although disappointed because of the loss, the fans cheered their team and praised the goalie who played an outstanding game.
While experiencing all of this I could not help but think about the similarities to our faith journey. The Paschal Mystery also included loud cheers … for Jesus coming into Jerusalem and people cheering Hosanna! Then Jesus is arrested and put to death. After which he rose from the dead and lives among us in spirit. Our own lives are also filled with moments of joyful victory and agonizing defeat.
Even in the everyday activities of individuals, friends and families – whether it is watching a World Cup soccer game, helping your children with homework or visiting with a friend - we can always see the presence of our Lord in our midst. Jesus continuously reveals something about our humanness, about ourselves or about those around us.
How do you live the moments of victory and defeat that we all face in life? How often do you really pause to feel the energy of excitement and the tears of sorrow that is part of our journey in life?
Even in the game of soccer there is always an opportunity to score a goal for God.