Sometimes the Lord calls us to rest and it is a sacrifice I find most difficult to offer. We run about doing good but become like whirling dervishes; set in motion and unable to stop, breathe or reflect.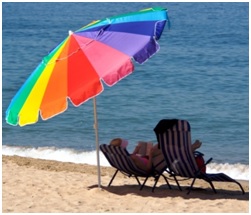 Is this really what the Lord is asking of us? Sometimes we need to go apart to pray as Jesus did so we can set a new pace. I find for myself that often I don't stop until I have a migraine. For others it may take a fall, an accident, the flu, getting fired, or what have you. Wouldn't it be better if we could hear God's voice calling us to rest and pray before we have gone over our physical, emotional, and spiritual limits?
I have been burned out in the past through ministry. These times were not just difficult for me but also for those with whom I worked. The more fatigued I became, the more I pushed. The more I pushed, the higher expectations I put on others. It was a vicious circle. I didn't use my vacation time nor comp time because I couldn't afford to get further behind … until I had to stop and take a long period off work. How much better it would have been if I had used my vacation time to rest, pray and play.
In the past year I have been with eleven hospice patients and I love this volunteer work. It is a supreme privilege to be present with these individuals during such a critical time. Last month, I suddenly realized that I wasn't quite bouncing back between patients. I found that even on my visiting day I would be wiped out. I know there is always a need for volunteers but I also knew it was time for me to take a break.
During these beautiful days of summer, which is such a short time in New England, may we all take the time to rest and pray. Then, being refreshed in the Lord, we may express His love in so many more ways from the wealth we have received.