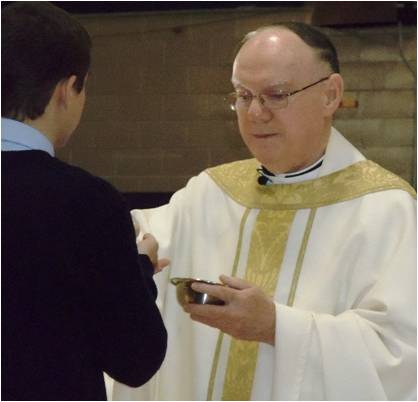 Yesterday I had the privilege of joining a friend who was honored at a local high school for her 40 plus years of service as a math and science teacher and for her commitment and contributions to Catholic Education. The new science wing was named in her honor and that of her father, a teacher and coach.
Combined they had over 80 years of service teaching and coaching!
The entire student body was present for Mass with Bishop George W. Coleman, bishop of Fall River, MA, followed by the dedication of the new science wing. The celebration concluded with a luncheon.
In his homily, Bishop Coleman challenged the students to prayer. He invited them to make a difference in the world. To begin now … today! To welcome this encounter with Jesus and serve the church, our society and the world. He told them not to be afraid to reach out, take chances and be courageous.
He shared the example of Mother Teresa, who when asked if she was making a difference in the world, responded, I throw a pebble into the water and it ripples.
His homily was awe inspiring and thought provoking for everyone present. It was perfect for this celebration honoring the legacy of two individuals whose lives exemplified what it is to have an encounter with Jesus and make a difference.
The day was special for another reason … the birthday of the bishop! The entire student body sang a round of "Happy Birthday" to the bishop, who was noticeably moved.
How do we make a difference in the church, our society and the world? What pebble do we dare drop into the water to make a ripple effect?