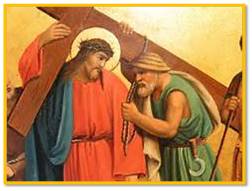 A number of years ago my boss was diagnosed with ALS, better known as Lou Gehrig's disease.

Now John was quite a gregarious man. He had visitors to his office all day every day; all kinds of people: faculty, students, staff members, local musicians, and friends. These visits actually enhanced his job and made him and his reputation grow.

The strange thing was that once he was diagnosed, and even before he showed any signs of the disease, his visitors began slowing down so that by the time his symptoms manifested, hardly anyone was coming at all.

Then a peculiar thing happened. He began receiving visits from people who had never been all that interested in John before this. They came regularly and became a brand new support system for him. He always grieved the loss of his "friends" but was genuinely grateful for his new supporters.

When Jesus was on his way to Calvary, you would think that one or the other of the apostles would be there to support and help him with the cross. No, none of them broke through the crowd to be of assistance. Here it was Simon of Cyrene, basically a person unknown and a foreigner. (Mk 15:20 – 22)

How did this affect Jesus, perhaps the same way as John; he was just grateful someone was there for him.

We must remember in our darkest hours that those we love most may not have it in them to assist us. That doesn't mean they don't love or care for us, only that something within prevents them from assisting us in our need; it might be their own fears (as if our situation might be contagious), or their inability to communicate their love on that level of intimacy. Whatever their reason, it is not only important to accept them in their inadequacy but also not to decide that they "really don't care" because they are not there.

So often others do step in whom we would never have guessed. We may be shocked by their care and kindness. If we are lost in the pain of what and who should be with us, we will never realize the gift of who is there for us.

May God be forever praised that there are such "fall back" people in this world. And may they always be received graciously for that may be the only remuneration they ever receive or need.