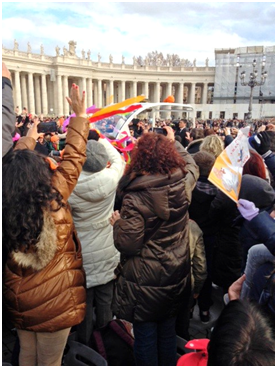 Recently I was in Rome with Father David Marcham for the audience with Pope Francis, along with about 10,000 other people!
It was easy to see what the stir was about, since the Holy Father spent about 30 minutes touring the crowd kissing babies, smiling and greeting many of the people personally.
This is a people's Pope, for sure!
After the message on Baptism was delivered in many languages, emphasizing that this sacrament makes us part of the one Body of Christ, Pope Francis immediately went down to the infirmed folks who were in wheelchairs. He spent another 30 minutes with them as the VIP's and other guests witnessed his concern for those who are disadvantaged and marginalized.
At every step Pope Francis preaches the Gospel by his actions. And sometimes he uses words!
Pope Francis welcomed by an enthusiastic crowd.