You might have wondered why there are so many different devotions to Mary all over the world. They are all about the beautiful and varied ways that Our Holy Mother wants to share her Love, Jesus Himself, with people of different times, places and cultures - and how these people have returned that love.
There is another important thing to note. In each devotion, there is some unique part of the Gospel message that she wants to teach and that she herself lives and represents for us as Mother of the Church.
A good example of this is Our Lady of Mount Carmel, whose feast we celebrate July 16. She is the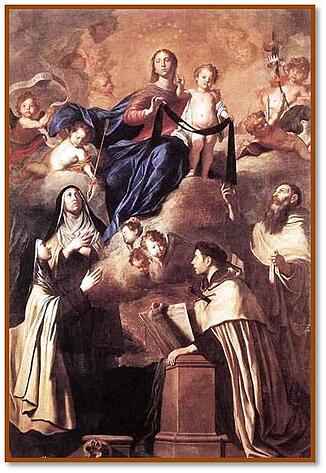 Patroness of the Carmelite Order but it's striking that this devotion is pretty universal in the Church, even in places where there the Carmelites have not reached. You can see this in the very widespread use of the "Brown Scapular" of Our Lady of Mount Carmel through which Our Lady promises to help us with a grace-filled and peaceful death and lead us to eternal life. It is a way that she wants to walk with us, as our Mother.
Further, as we look at the history of the Carmelite Order we can get a sense of what she wants to teach us. Around the year 1200, some men who had gone to fight in the Crusades in the Holy Land settled as hermits on Mount Carmel. They looked to the Prophet Elijah and the Blessed Virgin Mary as models of a prayerful and holy life infused by prayer and the Gospel. The Prophet Elijah had encountered the Lord in a gentle breeze (see 1 Kings 19:12 , i.e., in stillness and peace) and the Blessed Virgin received the Word so totally that He was made flesh within her.
Our Lady of Mount Carmel calls us all to live prayerfully and reflectively! In a world where we are constantly barraged by our telecommunications and electronic devices she wants us to find God - and along the way to discover ourselves - through a lot more peace and quiet!
The Crusaders who became monks in hillside caves made a radical move that not many are called to. Still, in today's world it takes a personal decision to carve out little space for peace in your life and in your home! But we all need it! We all know that the noise and the pace of life can drive us crazy.
'Don't know how to begin? Pick up your rosary for 5, 10, or 15 minutes a day - every day ! - and let Our Lady help you. Help those you love to do so too.