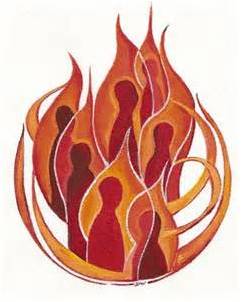 Now that we are celebrating Pentecost I am reminded of the disciples hastening out of their hideout to spread the good news.
I think the most familiar example of this for us is falling in love. The world changes all around us. We love everyone and everyone is a friend. Every day is beautiful. But we know too that we could not live forever with that intensity. It is the habits we develop while in this joyful state that provides the foundation of a deeper love which continues to permeate our lives but in a much less obvious and more profound way.
Often I am amused how nothing empties out faster than a church parking lot after mass. Where are we all off to? Certainly we are not off to preach or proclaim the Word … or are we? We could be doing that as well, even without knowing it. As we leave Mass, we are permeated with the gifts of the spirit, Eucharist and the community of believers who have come together to worship (even if they think they are only doing their duty.)
We are usually not aware of this as we ride off to breakfast, or home to read the paper, to take the kids to games, or whatever. On days like today it's a nice reminder that the Spirit is alive in our hearts. And as love grows deeper beyond the original passion, may we know that our faith, and grace goes deeper until we just live in that grace and it spills over to everyone around us as it moves and impels us to grow, reach out and yearn for more.
So on this Pentecost Sunday my prayer for us all is that we are increasingly aware of the gifts we have received and recognize them as we live out each day doing whatever we need to do.