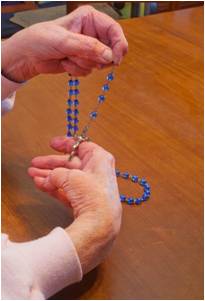 Recently I reread The Little Prince by Saint-Exupéry. This is on my list of favorite books and is one of those fairy tales for adults. In this story the fox tells the little prince that he must be "tamed" and that will make all the difference. Now all these months later Gracie and I have tamed each other, so to speak.

For months I had been attending the weekly Rosary at an Alzheimer's facility. Gracie must have been there since the nurses tell me she never missed it but in my mind's eye, I only recall many wheelchairs and that there were people in them … not their faces. Then she became my hospice patient.

The first time I came to visit Gracie I told her I was a hospice volunteer. She raised her eyebrows, shook her head, and shrugged her shoulders as if to say, "What next?" At the end of my second visit she thanked me for coming to visit and asked me to come again. By the third visit I was so aware of how sweet her temperament is as I observed her interaction with the help; Gracie consistently waits until she has eye contact with a person and then says, "Thank you" with a toothless smile. Week after week we pray the Rosary together, either in her room or with the group. Then we sit and chat or sing, if she likes.

My relationship with Gracie has exemplified what the fox teaches the little prince, "To me, you are still nothing more than a little boy who is like a hundred thousand other little boys and I have no need of you. You on your part have no need of me … But if you tame me, then we shall need each other. To me you will be unique in all the world. To you I shall be unique in all the world … It is the love you spend on your rose which makes all the difference." *

Gracie is my rose and is unique in all the world to me. I'm glad she has lived beyond 95 years so I am able learn her lessons and grow to love her. Since she has recovered so well, she has been discharged from hospice. I will continue to visit but no longer as a hospice volunteer but now as a friend.

* The Little Prince, written and illustrated by Antoine de Saint-Exupéry, Harcourt, Brace, & World, NY, 1943.