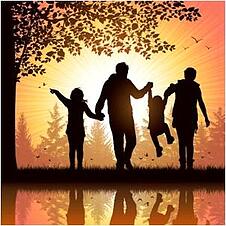 The Resurrection story has much to offer families. Like Mary grieving in the garden, the fearful apostles in the upper room or the distraught disciples on the road to Emmaus, there are always times within a marriage and family when circumstances are such that one or the other needs consolation, support, and encouragement. There are other times when we hurt each other thoughtlessly or carelessly and need forgiveness. During these times, we may think nothing will ever get better but with God there is always hope.
As long as the relationship is physically safe, there is actually strength in the knowledge that failure is not an option. Nothing provides more self motivation than the faith and support of a loved one and there is no greater gift to offer than that same belief when a family member is filled with self doubt or seems unable to grow beyond a certain place. Prayer is the greatest recourse in these instances; to pray for strength, hope, insight, and the ability to see what may not be apparent. Mary Magdala was overcome with grief and yet, when Jesus first appeared, she didn't recognize Him. The Emmaus travellers didn't even recognize Jesus until he was gone and they realized "how their hearts had been burning within them." Like the apostles, families have the risen Lord present in their daily lives to share the dying and rising, the despair and hope that is the Easter story.
v Family Activity:
Once a day, perhaps at the dinner table, take turns having each member share a "high" (positive happening) and a "low" (negative happening) from the day.
Say a prayer together as a family, thanking Jesus for the gifts of his Resurrection – Faith, Hope and Love - and praying with gratitude for each other as well as for the needs mentioned during the "High-Low" exercise.
Let us know how helpful this exercise is for your family.