There are very few women mentioned in the whole of the Old Testament. Here on the way of the cross, however, Jesus meets several women.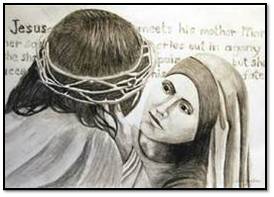 The first one, of course is his mother. When Mary approaches him, there are no words. She is as united to him as a mother can be. Their hearts understand each other without words. Jesus knows she shares his pain in a deep and abiding way. Her compassion comes from the heart and is shared with presence.
Veronica, sees his pain but she also sees his need. She runs toward him to wipe his face, to assist him on his way … offering a kind and human touch in contradiction to all the aggressive and tormenting ways he has been touched during the previous night. She offers her service without thinking of the ramifications to herself. Jesus blesses her for her care by sanctifying the very veil with which she has wiped his face.
When Jesus meets the women of Jerusalem, he can see they are filled with sympathy. The thing about sympathy is that it is not really a matter of union or service. It's a sense of observation and entails a distance. We might be very sad that something awful is happening to another but at the same time, we are not sharing that pain in our own experience. We would help if we could but we are not sure we can. There is a sense of feeling sorry for another and yet in our deepest hearts, we are glad it is not happening to us. These are the only people Jesus is recorded as speaking to along the way. He warned them that if this could happen to him, know that it could happen to them. He was telling them the sense of separation was really not helpful for him or for them.
When I ponder the difference between compassion, service, and sympathy, I know that I approach different people with one of these different aspects. There is no healthy way I could possibly meet everyone suffering along my way in life with compassion or even service. But I must know that I'm just as vulnerable as the next person. I must try to understand and support those who are suffering and pray that God is able to fill up what is lacking in my own heart so that the other may know His love and care.