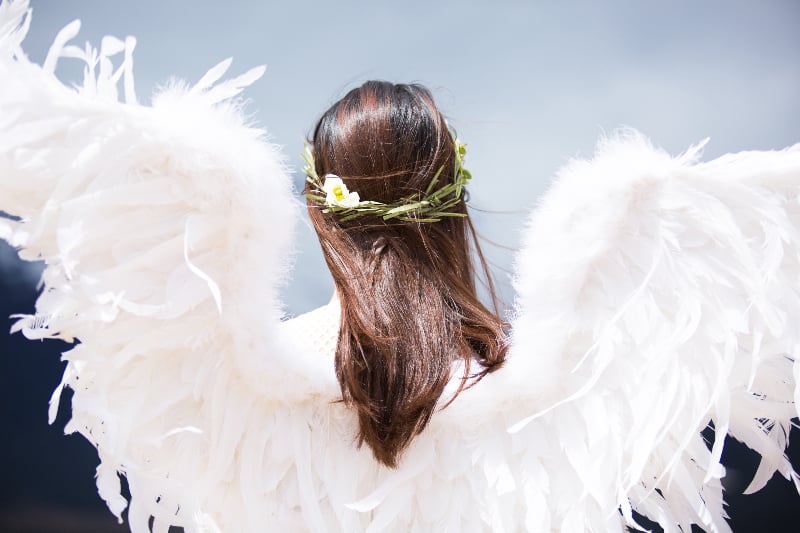 Subscribe
Bonding with your Guardian Angel
I love my guardian angel. I always have.
It's like having a permanent companion or buddy with you at all times. A buddy with special abilities to worship God constantly and fast track your prayers straight to Heaven. A buddy who you don't share with anyone else on earth—one especially chosen specifically for you. What's not to love?
I tend to treat my guardian angel like a good friend: talking to them throughout the day, asking them questions, and occasionally pleading for help. But not everybody has this relationship with their angel, and that's OK! After all, trying to befriend a being that's pure spirit is not the easiest task.
Regardless of whether you communicate daily or never at all, here are a few simple ways you (and your kids!) can get closer to the angels.
Give them your intentions. Because angels are purely spirit, they are able to be present both to us and to God in Heaven. All of us have prayer intentions — you might as well give them to your angel! Your angel is a prayer warrior and a messenger, so take them up on it!
Ask them for protection. Ever found yourself in an unsettling or even dangerous situation? Pray to your angel to protect you! We all know St. Michael the Archangel as a great defender. Your angel is assigned to protect you, too!
Say "Good Morning" to them. When I was little, my mom taught me to wake up every morning and say, "Good morning, Jesus. I love you. Good morning, Mary. I love you. Good morning, guardian angel. I love you. Please keep me safe." It's a habit I maintain to this day. How very simple for us, but how very special for your angel who loves you so! Can you imagine the joy that even our slightest interaction must bring them?
Let them help you find parking spots. Think it sounds silly? Give it a try.
Pray before bed, as defense from bad dreams. Your angel not only stays with you while you're awake — they're by your side all night while you sleep. Try the "Angel of God" prayer or add your angel to your nightly prayers. Even better? Ask them to defend your kids from bad dreams. Who better than the angel perched by your bedside to guard you?
Help you remember things. Want to remember something but don't have a phone or a pen handy? Tell your angel, then say "Please help me remember this." You'd be surprised how it works!
Let them finish your prayers. My parents used to tell me to say the Rosary in bed when I couldn't fall asleep. When I worried I wouldn't finish, they told me, "Ask your guardian angel to finish it for you." Now, this is no excuse for getting out of prayer early! But your angel prays without ceasing; ask them to pray alongside you and complete your prayers, when necessary.
Talk to them in store lines. This doesn't have to be out loud, of course! But try internally telling your thoughts, feelings and stories to your angel. Just like our relationship with Jesus (or anyone!), you don't get closer if you never talk. Your angel is interested in everything about you. Let them be a part of it!
Ask them to intercede for fallen-away Catholics. Do you have a friend or a family member who has left the faith? Ask your guardian angel to intercede for them. According to one of the mystics, Anne the Lay Apostle, our guardian angels are able to communicate with each other. Pray that your guardian angel will communicate with your loved one's angel to bring them back to the Church.
Have you ever had an encounter with your guardian angel? I'd love to hear about it! Let me know in the comments.
---
Copyright 2019 Gracie Jagla
Image Copyright: Unsplash.com (2017), CC0/PD
This article was originally published at CatholicMom.com and is shared here with permission.