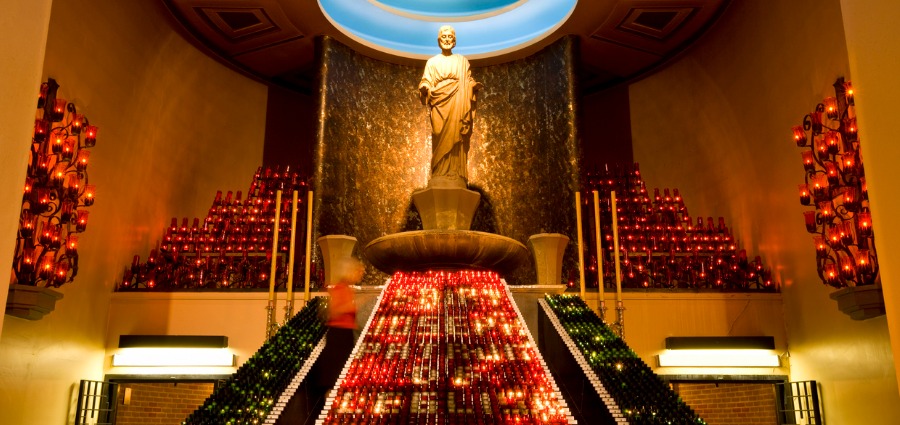 Subscribe
Grace Builds on Nature - Family Reflection Video
Today we celebrate the memorial of Saint (Brother) André Bessette (1845–1937), the humble brother who was known as the "Miracle Man of Montreal" and who became the Congregation of Holy Cross' first canonized Saint on October 17, 2010, in St. Peter's Square in Rome.
Like St. Therese of Lisieux, Brother André would humbly touch countless souls without leaving his city, first as doorkeeper of Notre Dame College in Montreal, then at the trolley station, and ultimately at the Oratory of St. Joseph that he helped build.
The fact that this holy and humble man, who had significant challenges in his life, became a saint is proof that God's grace builds on our human nature if we put our trust in God.
Alfred Bessette, born in Quebec on August 9, 1845, was orphaned at age 12 and worked to support himself with little formal education. From an early age, he had a lively faith and a strong devotion to St. Joseph. After a few years of trying to find work in the United States, primarily in the New England states, he returned to Quebec.
There, his childhood pastor encouraged him to consider a vocation to religious life and sent a note along with him to the Congregation of Holy Cross that said, "I am sending you a saint." (What prophetic vision that pastor possessed to see a future saint whom so many could have easily overlooked.)
However, initially, Holy Cross did not accept Alfred because of his poor health. He'd been baptized right after birth because they had been afraid that he might not live more than a few days, and he was sickly all his life. Alfred, however, was not discouraged and, with the assistance of the Archbishop of Montreal, received entrance into the Holy Cross Novitiate on December 27, 1870. Another powerful proof of God's grace at work, opening the door to Alfred Bessette's entrance into religious life.
Upon entering the Novitiate, Alfred took the name André, which was the name of his childhood pastor. Given his frail health and lack of formal education, Brother André was assigned as doorkeeper of Notre Dame College in Montreal. He continued this assignment as a professed brother. Among his many duties, he greeted visitors and tended to their needs; some could have seen this as a dead-end role in the life of a religious brother, but the future saint did not see it that way.
Many people began to experience physical healing after praying with Brother André, and his reputation as a healer began to spread. So many people flocked to see him that the Congregation allowed him to see sick people at a trolley station across the street.
Through it all, Brother André remained humble, often seeming confused that people would lavish such praise on him. He knew that the real source of these miraculous cures was St. Joseph's intercession.
His desire to increase devotion to St. Joseph inspired him to found a shrine to his favorite saint across the street from Notre Dame College. He saved the money he earned from giving haircuts at five cents apiece, eventually earning the $200 he needed to construct a simple structure. (By the way, that comes out to 4,000 haircuts!)
This shrine opened on October 19, 1904, and in 1909, Brother André was released from his duties as doorkeeper and assigned full-time as the caretaker of the Oratory of St. Joseph.
The Oratory attracted large numbers of pilgrims, and plans were made to construct a large basilica. Brother André's full-time ministry for the rest of his life was to receive the long lines of sick visitors who flocked to the Oratory to see him.
He became known as the "Miracle Man of Montreal," and thousands of miraculous healings were attributed to his intercession over the following decades.
Brother André died on January 6, 1937, at the age of 91 (not bad for someone with chronic poor health). During the week that his body lay in state outside of St. Joseph's Oratory, an estimated one million people braved the bitter Montreal winter to pay their respects. The basilica was eventually completed, and it remains a major pilgrimage site, attracting over two million visitors a year. The side chapels are filled with the crutches of people healed through St. André's prayers.
My brothers and sisters, St. André Bessette, reminds us of the power of faith, intercessory prayer, and how God's grace builds on nature; no matter our human limitations, God's grace can bring great good and glory to God.
(Servant of God 1940, Venerable 1978, Blessed 1982, and Saint October 17, 2010).
---
To view Rosary prayer and Mass streaming live,

please visit our Facebook page

at 11:30 am EDT, Monday – Friday. Please invite your loved ones to join us too! (You don't need a Facebook account to view.)