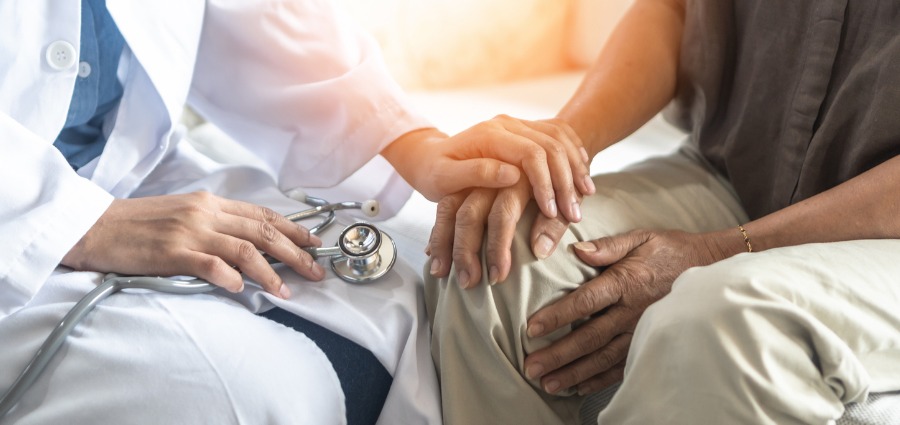 Subscribe
Inviting Jesus' Healing Power into Our Homes - Family Reflection Video
Yesterday was a first for me; a doctor, a podiatrist, made a house call to see my Mom.
After the doctor left and I read and reflected on today's gospel, I had a deeper understanding of Jesus, the Divine Physician's house call to see Simon's mother-in-law.
In my parent's and grandparents' time, doctor's house calls were more common, and so they would have connected with inviting a doctor to come to examine and provide treatment and advice to facilitate healing and good health. This was long before insurance was common, and so there was an understanding of a direct connection between the doctor, patient, and family.
In Mark's gospel, we hear that Simon's mother-in-law was bedridden with a fever and that upon entering the home of Simon and Andrew, they immediately told Jesus about her. The word "immediately" brings to mind their love for their family member who lay ill. They didn't offer Jesus hospitality which would have been customary, or engage him in conversation about what took place at the synagogue or what was to come next; instead, they showed Jesus what they wanted most from him.
And, Jesus, true to form, went directly to the woman who was ill and did what? "…he grasped her hand and helped her up." And, because he is Jesus, the fever left her and…to prove her full healing, and I'd imagine gratitude, she waited on them.
As a priest, I've been invited by family members of people who are ill or advanced in age to come into their homes, a hospital room, or a nursing home to bring them Jesus, the Divine Physician. I go as a priest of Jesus Christ, carrying the Eucharistic Lord, the oil of anointing for the sick, and the Word of God. Each time is different because each person has a unique relationship with God and a unique set of circumstances. But what remains constant is Jesus' offer to minister to those who are in need of healing and strength, love, and peace for the journey of this life to the next.
But not every illness is physical or even mental. There are also maladies of the soul that Jesus wants to heal. As family members and friends who believe in Jesus' healing power, we're called to be like Simon and Andrew, who bring Jesus to our loved ones. It could be through visiting and listening to their troubles and then praying with them. It could be through calling or texting them, letting them know that you are praying for them, and sending an uplifting scriptural verse; and, yes, it could be by leading them to Confession where Jesus forgives and strengthens us through the Holy Spirit.
My brothers and sisters, like in the past when people had a direct relationship between their doctor and a loved one who was ill, so, too, we're both able and meant to have this connection with Jesus, the one who has come to heal and guide us when we are ill or lost.
Just as Simon and the others told Jesus, "Everyone is looking for you", may we have that same desire rooted in our faith in Jesus' loving care for each one of us and our loved ones that inspires us to invite Him and His healing power into our homes!
---
To view Rosary prayer and Mass streaming live,

please visit our Facebook page

at 11:30 am EDT, Monday – Friday. Please invite your loved ones to join us too! (You don't need a Facebook account to view.)