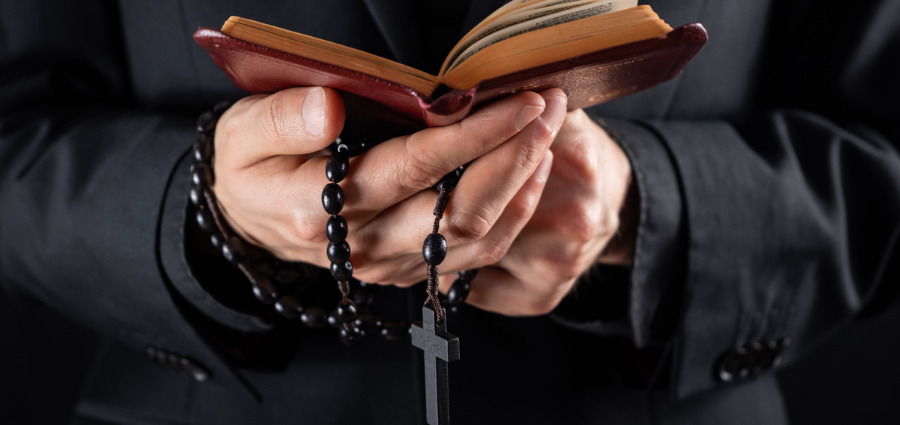 Subscribe
Learning to Love Adoration
Just up the road in an unassuming little building, there hides a secret. From the outside, it doesn't look like much: unmarked, under-visited. Nothing that would make you look twice. People drive past it all day without a passing thought.
But inside? Inside hides one of the greatest treasures on this earth. Inside, there are legions of angels standing in rapt attention. Inside, you find at once a best friend, a father, a king and a miracle-worker.
You see, this building hides quite possibly the greatest secret on this earth. And I'm betting there's one just down the road from your house.
What I've just described is Adoration of the Blessed Sacrament. It's a shiny, glistening picture that I present. And the thing is, it's all true! But how often do we really think of it like that?
I think all of us want to love Adoration, but how many of us really get it? Sometimes, all it takes to love something more is to understand it better. So, I set about to do just that.
Right away, I went to my mom. Though she would never admit it, she's kind of an expert in this category. She maintains her daily holy hour each morning. She has established "Children's Adoration Clubs" at multiple grade schools. And she spent years teaching faith to grade schoolers, giving them a love for adoration that had them literally begging to go back and see Jesus.
The best part of her experience is that it's based mostly in children. And isn't it true that the best and simplest advice is often related to children? She explained it to me as a story, and it goes something like this:
Imagine if you woke up to find your mom already waiting for you in the kitchen. She's standing there so excited, all because of you. Because she can't wait to see you, wrap her arms around you, hear your voice.
But what if, when you went downstairs, you pretended your mom wasn't there? If you walked around her to get your breakfast, as if you didn't see her. Then, without saying anything, you left for the day, leaving her waiting alone.
And what if your mom waited there all day long while you were gone, just because she loved you so much? Because she still couldn't wait for a chance to tell you how much you meant to her? Yet every time you saw her, you ignored her.
Now, imagine you came into the kitchen all of a sudden and said "Mom! There you are!" And you ran up and threw your arms around her. How happy would that one little moment make her? How much would she love getting to hold you … and how much joy would it bring you, too?
This is exactly what Adoration is like — a visit to your mom. You don't need to bring books when you see your mom! You don't need to worry about being bored or distracted. You don't plan conversation topics ahead of time. That would be crazy! Even when you haven't seen her in a while, she never becomes a stranger — she's your mom. You couldn't distance yourself from her if you tried; she created you!
What if we could all think of adoration in this way? What if we could walk in, unafraid, just to say hi? What if the one question we held in our minds was simply, "How great of a hug can I give Jesus today?
I'm not saying it's going to be this comfortable immediately, or even ever. We might not be filled with the warm fuzzies of being in our mom's arms. But even if it never felt like that, wouldn't your mom still deserve to be visited? Isn't she still worth your time? So it is with God. And believe me, God won't let you leave His presence empty-handed. Get ready to leave lavished in a thick coat of graces. Whether or not you feel it, that's what happens!
So, today, go out and find the secret little Heaven in your town. Chances are, there's one just around the corner. Pull up to that building, fling open the doors, and rush in with all the joy of a child who finally sees that his mom has been waiting there the whole time, just to say, "I love you."
Then, all you have to worry about is this: What kind of a hug are you going to give Jesus today?
What is your most moving or powerful adoration experience? I'd love to hear in the comments!
---
Copyright 2020 Gracie Jagla
This article was originally published at CatholicMom.com and is shared here with permission.