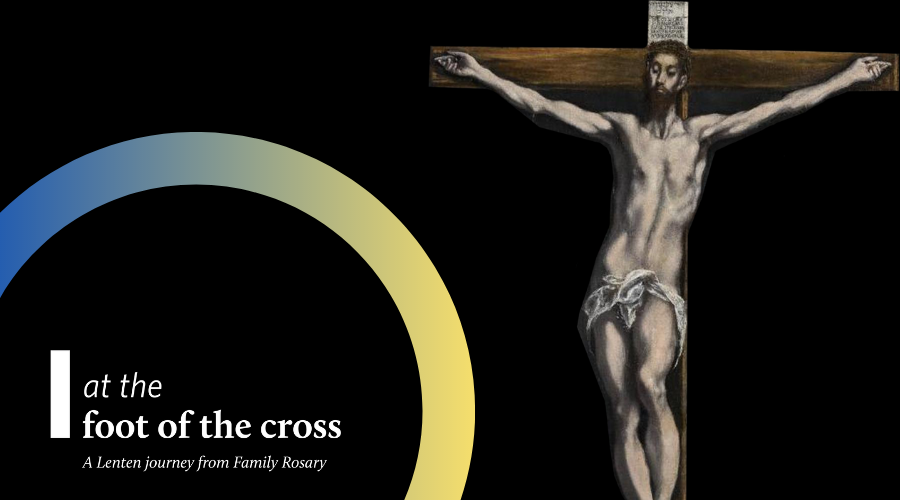 Subscribe
Lent 2021: At the Foot of the Cross
"Lent, are you kidding me?" one might comment. "Haven't we had enough penance from COVID already?" However, Lent does indeed begin tomorrow – and rather than another burden, it comes as a big help to us now!
How? Suffering and penance are NOT the same thing. Lenten penance is about conversion: turning from what binds us and blinds us to the One who frees us and leads us on the way to true life. Christ is our hope and Lent is a profoundly hopeful time.
There's hope for turning the COVID crisis around now, after a lot of hardship. During Lent we can understand how our Christian hope can help us to see COVID challenges as opportunities to grow. We can see the hardships of the past year as a means by which God is calling us to turn to Him. Trusting in Him, the human community will move out of COVID through unity and solidarity.
The traditional Lenten practices of fasting, almsgiving, and prayer can offer a matrix and a lens for the conversion we need now. For example: we practice fasting, the discipline of limiting our intake of food, media, etc., to focus on what's most important in life and to put God in the center. We recognize how we have been giving less-important or even harmful things de facto priority. It takes grace and our own effort to change that around.
COVID has been a forced-fast in many ways! On the positive side, it has been the opportunity to recognize that we are too stuck on "stuff" and many have rediscovered the beauty of family, relationships, and taking care of one another. Yet the cost has been much fear, loneliness, and grief. At the core of the Lenten fast is ever deeper longing for and confidence in God.
Can our Lenten fast this year help us to heal as we more intentionally strive to deepen our trust in God?
We "empty" ourselves, so to speak, so that God can fill us with what is good, with His grace, with His very Self.
Furthermore, if we are to move out of COVID well, it will be through solidarity and care for those most in need. Lenten almsgiving means generously practicing works of mercy. Fasting and almsgiving go hand in hand. I fast to love and trust God more. Loving God means loving all God loves, being merciful as He is merciful.
A pandemic shows us the fragility not only of our bodies but also of many of the structures we take for granted. That ought to be a wakeup call for everyone to turn to the One who created us all. Yet, ironically, COVID has even made it hard to go to Church! Still, He calls us to meet Him in our hearts in prayer and so to see Him, all around us, as our true stability. Let Lent be a time of profound recommitment for you and your family to journey with the Lord each day in prayer.
Reflecting on the context of our Lenten practice this year, let us note that in the first place, Lent is the time to prepare for the great annual remembrance of the Passion, Death, and Resurrection of the Lord, so that we will be ready to stand at the foot of the Cross with Mary. Christ, both Victim and Priest, sacrifices Himself to the Father for the forgiveness of sins and to open the way to Eternal Life. Mary once more says YES, offering her Son as this Sacrifice of the New and Eternal Covenant. This is our Salvation. This is our true Hope.
During Lent, may trials lived this past year be forged into faith, fortitude, insight, and courage so that we may take our place next to Mary at the Cross. There, we will be participants with her as Christ shows us how He redeems by transforming even suffering into new life. He continues to do so in the life of each of us. He intends to make all things new!
HOW WILL YOU COME CLOSER TO GOD THIS LENT?
LENT IS A JOURNEY! WE HOPE YOU WILL LET US HELP YOU AND YOUR FAMILY ON YOUR WAY THIS LENT. PLEASE COME ON OUR "AT THE FOOT OF THE CROSS" FAMILY LENTEN JOURNEY AS WE OFFER YOU SIMPLE ACTIVITIES FOR EACH OF THE 40 DAYS VIA FAMILYROSARY.ORG AND OUR FACEBOOK PAGE.