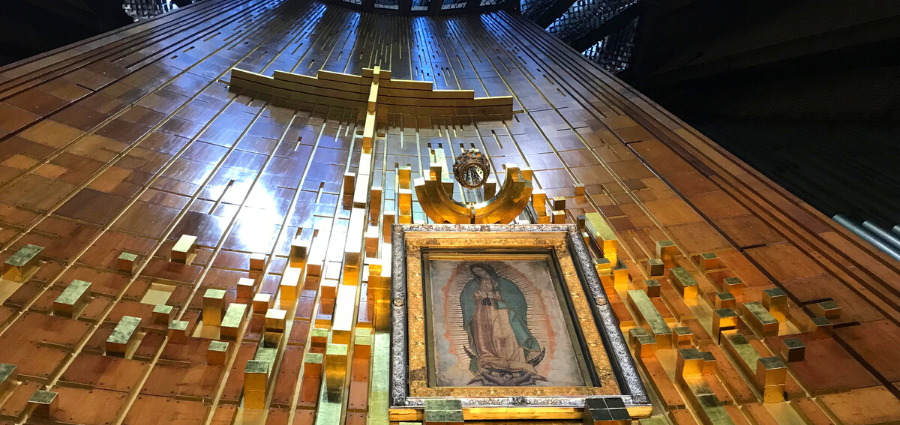 Subscribe
Our Lady of Guadalupe, Mother of the New Creation - Family Reflection Video
Love thy Neighbor | Seasonal Reflections
The great majority of people in North and South America have seen the image of Our Lady of Guadalupe, including non-Catholics — thanks, particularly, to the migrations of Mexicans. Hilary Clinton expressed her appreciation of the beauty of the image when, as Secretary of State, visiting Mexico City, she was brought to the Basilica of Guadalupe and she went on to ask in all sincerity, "Who painted it!" I hope Hilary's heart was touched to hear the story of how the image miraculously appeared and remains. I hope our hearts are touched today too as we contemplate both the intimacy and the power of what happened.
Perhaps they were able to share with Hilary the words of Our Lady when she first appeared to Saint Juan Diego: "My Dear Juan Diego, go to the Lord Bishop and tell him that I want a little house built so that I can show my all my Love to my children."
"Little House" in Nahautl also means a Temple; a house of a god. Her "Love" means Jesus, who she carried in her womb: in the image of Guadalupe Mary is pregnant! The Mexicans looking at the image would have known that immediately as she was dressed as pregnant women dressed.
The image and the circumstances of the apparitions were charged with signs and symbols that spoke clearly to them so that they would understand that the baby she carried was the prophesied white savior Mexicans at the time awaited, Quetzalcoatl, who was to come from the east, signaling the coming of a new age.
When Cortez the Spanish Conquistador had arrived in Mexico and finally in Tenotchitlan, Mexico City, in 1519, he seemed quickly to subdue the Aztecs in part because they thought he was Quetzalcoatl. But the abusive treatment the Aztecs then received from many of the Spanish soon led them to realize the Spaniards we not their saviors, so they began to fight back. A complex and increasingly bloody and dangerous confrontation escalated. There was no way the Spanish had the forces to dominate in the face of a major uprising. The Aztecs were seized by the despair of thinking their gods had betrayed them. The situation became worse and worse, reaching an extremely explosive point in 1531; until Our Lady appears, bearing Jesus in her womb, calling all to her Son. Immediately the war stopped. In ten years, nine million Mexicans became Christians.
There are two great shrines of Our Lady of Guadalupe. This one in Mexico we celebrate today; the other is in western Spain where an ancient statue of the Madonna and Child is venerated. The most important Marian Shrine in Spain in the Middle Ages, it is a symbol of Christ's presence and Mary's maternal love in Spain during difficult moments in Spain's history. Twice Christopher Columbus met King Ferdinand and Queen Isabella at that shrine to plan Columbus' voyage to find a yet unknown continent.
Then in 1531, Our Lady appeared in Mexico. It is something of a mystery how she came to become called Our Lady of Guadalupe. Yet clearly, she came to lead the evangelization of this vast continent totally unexpectedly and totally in peace. She came bearing in her womb the true Savior in a way that the Mexicans understood well. She came doing what Our Lady always does—she shows Her Love, Jesus, the Son of God, the Savior, the New Man who unites and makes all things New.
What happened in Mexico City in 1531 was a Marian Apparition, and more: it was a Theophany that has taken its place alongside the great Biblical Theophanies. For the Spanish, it was a confirmation that the Lord and Our Lady had been with them during their very difficult history. For the Mexicans, their prophesied savior had arrived. For all, something very new had begun.
Christ had come to this vast Continent!
Now, 500 years later it remains a living memory and for our epoch, on our continent, in our divided world. We need to learn the lessons and look with hope to Our Lady of Guadalupe now. We saw two hugely destructive world wars in the last century. Many fear we may be getting closer to a third. We seem to be witnesses to epochal changes.
Holy Mother, show us again your Love, your Son, Who always wants to unite us and make all things new.
---
To view Rosary prayer and Mass streaming live,

please visit our Facebook page

at 11:30 am EDT, Monday – Friday. Please invite your loved ones to join us too! (You don't need a Facebook account to view).