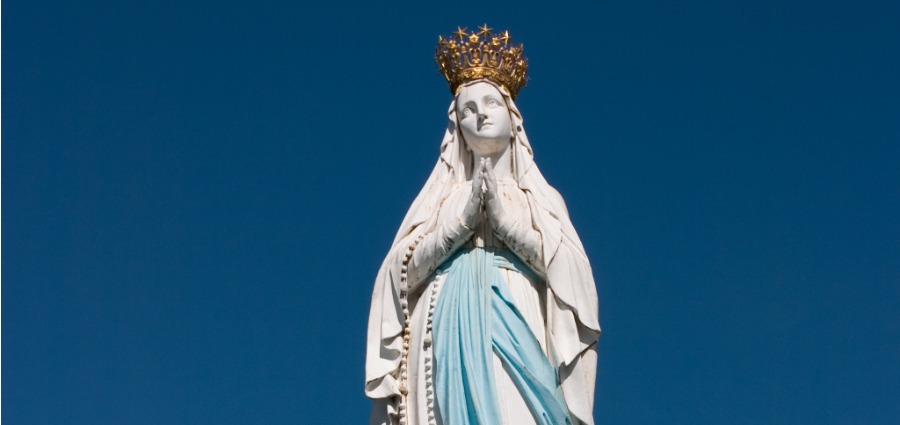 Subscribe

Our Lady of Lourdes: 1858 and 2021
Healing the family | Holy lives of inspiration
February 2021: COVID February. Nevertheless, we approach the anniversary of one of the most extraordinary Divine interventions since the Resurrection. This one, however, happened in dumping grounds on the outskirts of a small town, Lourdes, in the French Pyrenees.
Yes indeed: something truly extraordinary happened there. You would have to be a total cynic to deny it. It all began when a beautiful young woman, apparently about 16 or 17 years old, emerged from a brilliant light and prayed the Holy Rosary with another girl of 14, Bernadette Soubirous.
The third time the beautiful young lady appeared, she invited Bernadette to keep coming to visit every day for two weeks. In this way, she invited Bernadette to enter into a deep relationship. She said to the poor and sickly Bernadette, "I do not promise you the happiness of this world, but of the other world".
During the 9th apparition, after instructing Bernadette to eat grass and drink mud–"Penance, Penance, Penance"– the Lady told Bernadette to dig in that mud. A trickle of water then became a spring. Sick people very soon started washing in that spring and the miraculous healings of Lourdes began, of which there have been many thousands. You would have to be a total cynic to deny it.
Yet, although Bernadette dug and revealed the spring, when people began to speak of healings, she rigorously denied having any responsibility or participation in them. She said she knew nothing of them and in no way did she herself benefit. She continued to suffer the effects of diseases contracted as a child of a poor family until she died at 35, in a convent, of bronchial complications from Asthma that then became tuberculosis. Hers was a difficult death, yet she died with love of Jesus and Mary on her lips.
Through the faith, character, and virtue of this simple yet authentic girl, the Holy Virgin built a home "where she could show her love", as Our Lady said to St. Juan Diego when she appeared to him in Mexico in 1531 (Guadalupe). Both shrines are great manifestations that the Kingdom of Heaven is indeed among us. As in the Scriptures, the healings at Lourdes are intended to call us to believe in Jesus Christ, God with us who has come to manifest the New Creation.
Yet, with respect to the healings, Bernadette was not a beneficiary. She had been told: "I do not promise you the happiness of this world, but of the other world."
Certainly this "other world" refers to the next life that opens to life eternal. Yet IT STARTS NOW, through faith and through letting the Lord lead. It is the way of sacrificial love. The way is different for and particular to each who walks it, yet it is always both very difficult – dying to self – yet easy, as an offering of pure love.
We can see through the lens of history how Bernadette offered herself so that Our Lady could establish a place where millions of people would go to experience deep peace and healing. Yet immediately after the consecration of the first chapel on the site of the apparitions, Bernadette boarded a train to central France where she entered a convent, never to return to Lourdes. There she stayed out of the limelight as much as she could. Frail herself, she took care of the sick until she could no longer. When she died at 35, the light of Christ's love that she encountered through Our Lady had transformed her and made her holy.
Who will understand that now, in our COVID world, the greatest way is not that of a quick, easy fix? Enough of the lie of "instant gratification"! Rather our call is to a deep relationship with God, with Our Lady, in deep prayer, which leads us to long to sacrifice ourselves in whatever way the Lord presents to us.
We approach Lent 2021. May we learn now from all we have lived this past year. May we understand that we are to put HIM first. Trusting in Him and listening to His Word, may this year truly a time be to practice the holiness of St. Bernadette! Our way through COVID will be through Faith, solidarity, and prioritizing the wellbeing of all—particularly the needy. And, above all, our strength will be God's grace.
St. Bernadette Soubirous, Pray for us! Our Lady of Lourdes, Pray for us!
About Father Jim Phalan, C.S.C.
Father James Phalan, C.S.C., is a Catholic priest, member of the Congregation of Holy Cross and the National Director of Family Rosary. He served as a missionary for many years travelling the globe to help people come to Jesus through Mary as part of the Family Rosary team. Now he is happy to be serving back at home in the USA!