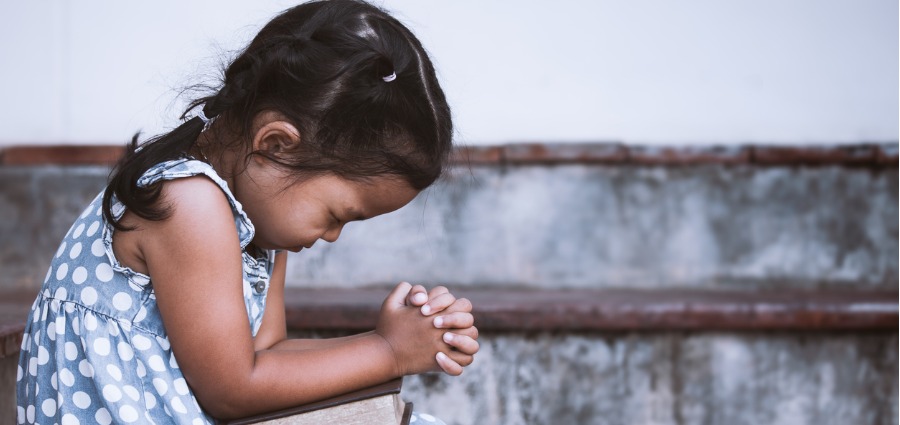 Subscribe
Praying for Others - Family Reflection Video
Let me share a few innocent and realistic prayers of little children.
Dear God: Send Mommy a new baby. The baby you sent last week cries too much.

How many angels live in Heaven? I want to be the first kid in my class to figure out the answer.

Please help me in school. I need help in spelling, adding, history, geography, and writing.

Are there any helpers in heaven? When I have summer vacation, I'd like to be one of your helpers in heaven.

My birthday is tomorrow. Can you put a rainbow in the sky?

I need an increase in my allowance. Would one of your angels be able to tell my dad about it?
Sincere and innocent prayers.
Jesus prays today for the twelve Apostles and for all those close to Him, including us, His future disciples. Jesus talks intimately with His Father. Jesus' prayer shows great realism. In this prayer, he prays for the protection and unity of his disciples. Knowing that others are praying for us in addition to our own prayers is a great feeling. Can you imagine God himself praying for you?
As a priest, I have been asked countless times to pray for people and their intentions. People you know must have asked you the same. When someone asks me for prayers, I immediately pray for them and their intentions. I do so during our conversation or just as I leave that person. One Divine Word Missionary priest told me that their founder, St. Arnold Janssen, taught them that it is better to pray for someone right away than to wait until later and miss the opportunity to pray.
When should the Mass intention be placed during Mass? I remember someone asking a professor this question during a diaconate course. It could be at the beginning, during the opening prayer, during the prayers of the faithful, at the Consecration, or the doxology. He said there was no precise time in the Eucharistic prayer, except for prayers for the dead. He asked us to pick a time we remembered the intention and said he always did it right before the opening prayer. As I pray the opening prayer, I always keep in mind the main intention of the Mass.
I remember my dad's sister, a nun, who was our go-to person for prayer, especially before exams and while awaiting results. When she was diagnosed with cancer, I was already a priest, and she asked me to pray for her and remember her at Consecration when I lifted the paten and chalice, and that has become a part of my prayer life, lifting people to God and remembering those who have asked me to pray.
In a homily, Fr. Mark Link, SJ, shared a legend that says,
When Jesus ascended into heaven, the angel Gabriel asked Him if all the people knew about God's love for them. "Oh no," said Jesus, "just a handful of people do."

The angel Gabriel was shocked and replied, "But Lord, what if this handful of people let you down? What if they meet with opposition and become discouraged? Don't you have a backup plan just in case?"

"No," said Jesus, "I have prayed for them, and I'm counting on them not to let me down."
People who ask us for prayers believe our prayers can do wonders. Don't let them down.
---
To view Rosary prayer and Mass streaming live, please visit our Facebook page

at 11:30 am Eastern, Monday – Friday. Please invite your loved ones to join us too! (You don't need a Facebook account to view.)