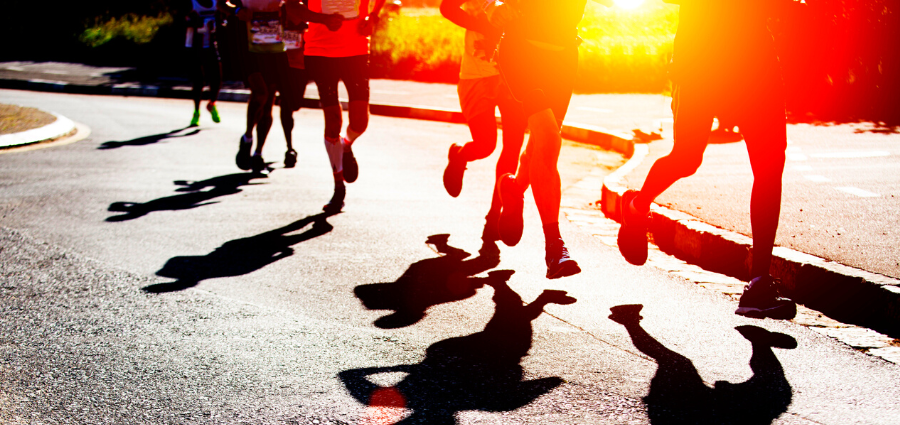 Subscribe
Staying Within the Lines
My second-ever road race was a St. Patrick's Day 5K a couple of towns over, held on a sunny—and thank goodness not too cold! —spring morning. The course led through residential streets that had been closed off for the run, similar to those I'd trained on in and around my neighborhood. But now, for the first time, I didn't have to stay on sidewalks and shoulders. I could run wherever I chose within the width of the lane. Not being at the front of the pack by a long shot, I had ample lateral wiggle room.
As I neared the last turn, I looked down to see I was running right on the white line that separates the car lane from the shoulder of the road. I had all this space, all this freedom, and I was initially surprised that either my feet, my brain, or both had chosen to stay where there was a boundary.
Then again, that boundary was clearly leading me somewhere, and that "somewhere" was my goal, the finish line. I wasn't totally exhausted (I was training for a half-marathon at the time, so I was in relatively good shape), so I got to thinking about the other boundaries within which I had chosen to live as a daughter of God and a practicing Catholic.
I could live any way I wanted to, and yet I choose to live within the boundaries of the teachings of Scripture, the traditions of the Faith, and the obligations enumerated in the Catechism. Not only that, but my husband and I were choosing to raise our children—then two young boys—in the Faith as well. I might not have articulated it then as I can now, when every day I see more and more how the Faith guides us through the murky and muddy waters of the world into the light of truth. Are the boundaries of Catholic living restrictive? I suppose you could use that word, except that all that they restrict from me is all that I ultimately don't want anyway.
Years later, I heard Bishop Barron elaborate on this more eloquently. If you want to learn how to play golf, he often says, you don't go out and swing the club any way you feel like it. You look to understand the physics of a swing, what to do, and what not to do. You accept those limitations, those restrictions, as the guides that will help you improve as a golfer and learn to play the game really well. In fact, you might even welcome such boundaries, seeking out an instructor or at least a solid YouTube video.
It follows, then, that in an arena of life that carries much greater weight than your score at the end of eighteen holes or the time it takes me to cross the finish line, that we'd look to a set of standards as to what to do and what not to do to grow into our best selves as children of God. Saying yes to something means saying no to something else, but that doesn't have to be a bad thing.
Bishop Barron explains this better than I can, as well:
There is a "no" which is in service of a "yes," since it represents a "no" to a "no;" it is a double negative that constitutes a positive. Any golf swing coach worth his salt will say "no" much more than he says "yes," precisely because there are a thousand ways to swing a club poorly, but really only one way to swing it properly. So when he says "no," he is negating a series of negatives, trying to move his student onto the narrow path of the right swing.
So it is with any other sport, with learning an instrument, with learning an art, and much more significantly, with living a life rooted in Truth, seeking after Beauty, and serving others with Goodness. I don't mean to diminish the challenges of adhering to the teachings of the Church, especially in a culture so opposed to it. But for years, the image of that dividing line under my feet has kept coming back to me, as a reminder of what I'm striving for, what kind of life I want to live, and how I'm going to get there.
In the Letter to the Hebrews, we read, "let us rid ourselves of every burden and sin that clings to us and persevere in running the race that lies before us" (Hebrews 12:1). Whether we run, walk, or ride, that race doesn't end with a mass-produced medal or a green bagel and a Gatorade. The prize is so much greater. We know that we have neither seen nor heard what God has ready for those who love Him (1 Corinthians 2:9). What we can know is that the eternal reward will be worth every "no" it takes to get there.
Copyright 2022 Lindsay Schlegel