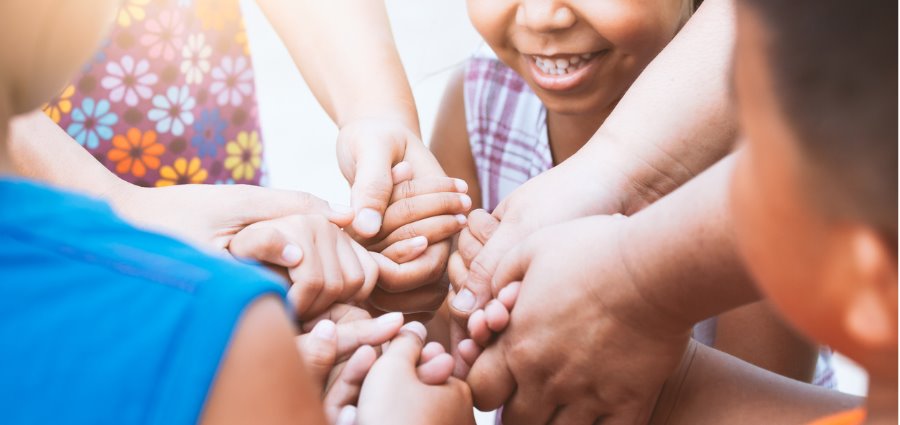 Subscribe
Still Undecided? It's Not Too Late
It's day two of our Novena for family unity. If you're still undecided about participating, read how it unexpectedly changed one family's prayer life ... perhaps for a lifetime!
From Novena to New Life
by Stacy Lievens
I have to be honest, we only intended to pray a nine-day novena. Really. We did not make a New Year's resolution to pray the rosary every day. We simply desired to begin 2019 with Father Patrick Peyton's nine days of praying the rosary for family unity. I never expected those nine days to turn in to a year or even a lifetime of prayer. I never expected to learn the meaning of surrender, perseverance, love, forgiveness, and humility as fully as I have in the past year. And in this writing, I just want to give thanks to God our Father, to Jesus His Son, to the power of the Holy Spirit, to the Blessed Mother, to all the saints that have walked with this ever-stumbling family, and to Father Peyton who has given such beauty and life to the phrase "The Family That Prays Together, Stays Together."
In November of 2018, our family joined the Father Peyton Prayer Guild. One of the commitments we made to the guild was to pray the rosary once a week, as a family, with the specific intention of Father Peyton's beatification. This was every Sunday evening in our home. In December I received an email about the "Nine Days of Prayer for Family Unity" ending on the birth date of Venerable Patrick Peyton. Well that was a no brainer!! Who would not want to start the new year in this way? Nine days of praying the rosary with the specific intention of family unity, we were a unanimous family vote of "YES!"
My husband and I settled into our children's room each night and we all prayed this beautiful rosary and the reflections that Family Rosary Ministries provided. It was like a Hallmark movie. We had already invoked praying a rosary once a week on Sundays, through SoulCore classes, and on Marian Feast Days. It wasn't always this way though. I remember how small I had to start when the kids were young and it would be mastering a Hail Mary, an Our Father, and a Glory Be one prayer at a time, then decade, and then rosary. I never thought we would EVER graduate to the full rosary! It always makes me laugh to think of my husband's first response after praying the rosary together, "Wow! That was a lot of Hail Mary's!" I was blessed beyond belief a few years ago to grow in my devotion with SoulCore, which just allowed me to enter so deeply into the mysteries and really strengthen myself in the virtues tied to each mystery! That devotion trickled into our family with each passing day.
But with this novena, I really felt the beauty of our family coming together at the close of a day and uniting ourselves in prayer. I was a little sad when we got down to having only a few days left of the novena. When that tenth day came, I was waiting for the graces to just be unleashed (that's how it works right?) The novena was over, so it was time to move on with life and return to usual bedtime prayers. After all, my husband and I had some things left to tend to in the house.
As we began prayers that night (my lead), "Now I lay me down to sleep…." we hear a "WHAT!?" from all four of our children's beds. I stopped. Puzzled. Four children bolting upright in bed is alarming! They surely were ready to get back to normal prayers, right?
Humility lesson #1. "Why aren't we praying the rosary?" This was the cause of their upset? I looked at my husband (who was all smiles-clearly all those Hail Mary prayers had grown on his heart too) and they continued, "We like praying the rosary. Why are we stopping mom? Yea, we love the rosary! Why would YOU not want to pray it?" Grace had begun to flow from the mouths of babes, although I did not know it yet. No, I was full of pride and felt like I was being attacked. After all, I had already prayed my rosary that day!
Our oldest began, "I believe in God, the Father Almighty, Creator of Heaven and earth………."
These words of scripture consumed my mind that entire evening, "Unless you turn and become like children, you will never enter the kingdom of heaven." Matthew 18:3
And so, it began. Quite unexpectedly I have to say, but nonetheless, it began. I thought it would end as quickly as it started, but sure enough, it just continued. A few days after that humbling night in their room, I was out of town co-facilitating a SoulCore Leadership Discovery Retreat in Marblehead, Ohio. I thought for sure, this is the kicker. This is when it will all fall apart. I'm not home, and my husband will forget to pray the rosary with them.
Humility Lesson #2 (of about a million in the past year!). At 10:43 pm that evening I received a text that read:
Hi. We all miss you. Had a fun night. We just finished praying the rosary. Izzy led the reflections with a book she found. She's so much like you. They all are. We should be so proud. Everyone took a decade to lead the prayers. They are all asleep. I hope you're having an amazing time. We can't wait to see you tomorrow. I love you.
I just sat there. Stunned. So filled with love. So thankful. So proud of this sweet family. I remember just pouring out this litany of thanks to Jesus and Mary for blessing me far more than I deserve, for the countless people that had led us to this point, for the gift of the rosary, it just went on and on.
Now, we were on a mission. I recall making it through the first month of praying the rosary as a family and all of us dreaming ahead to when it would be 60 days or even 100! True, we were beyond excited with our new devotion, how much closer we felt to each other, but little by little those numbers became a source of pride. Yea, that's how it is with the evil one, a slippery slope, taking our good intentions and slowly twisting them in to pats on the back for us. But the Good Lord always knows how to find us. So, when we got a little too big for our britches, which we did, He found us and redirected our steps.
Remember that Hallmark movie feeling I was so loving? Umm, it was most certainly NOT like that for 365 days. In fact, that is how God often found us, right in the midst of our brokenness and imperfections. Sometimes it would be our youngest moaning and groaning through two, three, or even four decades. Sometimes it would be countless distractions from the dog to children, to my own mind. We were no longer Hallmark material. And what a beautiful realization it was, because we are such a work in progress and our only lasting peace lies in the Father. If you're reading this and you're thinking our family could never do this. You're not alone. I was there too, but with God's grace, you can. And even better YOU WILL WANT TO! We persevered. And as time went by, a common theme began to emerge. It was no longer fitting prayer and our faith into our life, it was building our lives around our faith. There is a HUGE difference. We had a two-week family vacation where we stayed with grandparents and each night, they joined us in prayer. We were all nervous at first, but they loved it and it was such a blessing for all of us to pray together. Such grace. We had parties, events, and the county fair. We had friends and cousins spend the night and we still came together or sometimes rearranged our whole day so we could sit down for 30 minutes and pray the rosary as a family, or even better prayed with others. We prayed outside, in a camper, in the pool, around a campfire, and in the truck. Often, this meant giving up something worldly or self-focused.
Which, my dear reader, is not easy to do.
I remember one night being very upset with my husband over something. Of course, it happened at the end of the night, and I did not want to pray. Yep, I was refusing to turn to the Lord in my time of trouble. I am not proud of the display I put on by any means. Oh, the hurt I know I caused my family by my stubbornness. I remember it so well and will probably never forget it. Our children went to bed. My husband and I sat in the dark (of course- where else does sin hide?) As we sat there, both wallowing in our own anger and sadness and sin, I heard a low murmur coming from the kids' room. I listened closer and heard the familiar words of the rosary. How the tears began in my heart and then poured from my eyes. Here, these sweet children knew exactly Who to turn to, they knew exactly Who would disarm us and cause us to look at our hearts. By the end of the rosary, my husband's arms were around me and forgiveness was offered and accepted. Love prevailed. Love always wins. This was just one of the many times the rosary healed us and pointed our hearts to the Sacrament of Reconciliation. Mary always takes us gently by the hand and leads us to her Son.
This past year, the rosary has navigated us through the death of a loved one, through each season, through joy and through sorrow. It is woven into the pattern of our daily life. We have learned to slow down each day and come together in a place we will never be separated from one another. Many days there are laughs and smiles, but there are also days of tears as well. There has been forgiveness, surrender, thanksgiving, and love. There have been times of boredom and repetition, but we do not stop. We do not give up. We persevere. There have been times we can't all be together to pray when my husband has worked late, but we communicate, and then do our best to pray at the same time. We have been blessed to receive physical signs (everyday miracles) that it brings joy to the Blessed Mother's heart when we do this. We prayed the entire month of November a rosary for the souls in Purgatory. We have learned humility, who we are because of Whose we are! There have been countless nights the littlest of our house would fall asleep and it has brought tears of joy to my eyes, thinking they fell asleep in their most perfect mother's arms.
We never set out to pray the rosary every day, but now we cannot imagine our life without it. It is our lifeline. The very heartbeat of this imperfect, work-in-progress family. I am amazed, in God-adoring wonder, that this prayer for the beatification of Father Peyton has become a mission statement for our family (but then again Mary is always in the details)
From our family to yours, may this become your mission as well, one Rosary at a time!
"Dear Jesus, Father Peyton devoted his priestly life to strengthening the families of the world by calling them to pray together every day, especially the Rosary. His message is as important for us now as it was during his life on earth. We beg you, therefore, to hasten the day of his beatification so that your faithful people everywhere will remember his message that "The Family that Prays Together Stays Together," will imitate his devotion to your mother and ours, and will be inspired by his holy life to draw ever closer to you with childlike confidence and love."
---
Copyright 2019 Stacy Lievens.
This article was originally published at SoulCore.com and is shared here with permission.