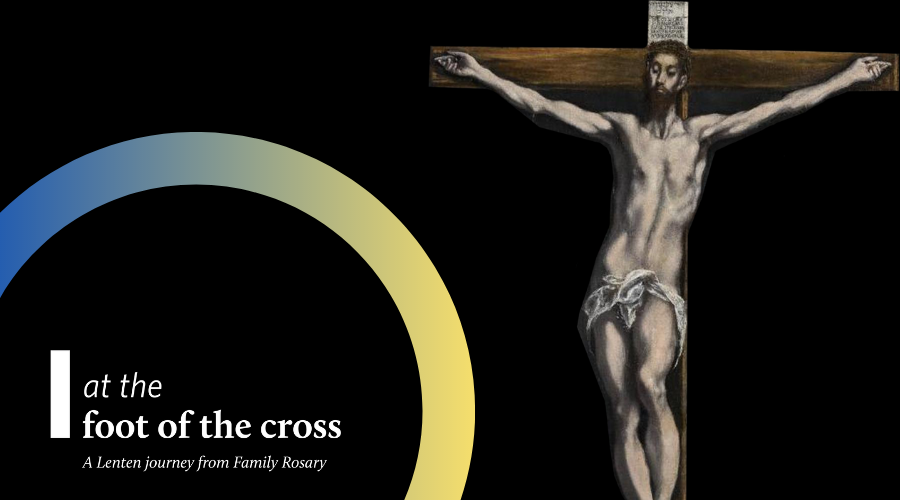 Subscribe
We are (in) the Hidden Years: Joseph, the Daily Cross, and Sainthood
"How are you?" "What are you up to today?" We can either pass over these daily questions or meet them with the quiet dread of our disquiet at the normal contents of our lives. We answer, "fine" and "nothing," because we don't find it worth engaging or because we are afraid to have to give voice to the meaning of what we do.
I believe many of us often fall into assuming our actions don't make much of a difference. We look around and think today is like yesterday and I guess tomorrow will be much of the same. As days turn into years of us "living our normal lives," don't we find ourselves asking the question: what is the meaning of it all? The gift of St. Joseph's witness lies hidden in his unheralded habits of love. We discover in these unheralded habits of love a powerful, dynamic sanctity—which we can then integrate into our own lives to give meaning and shape to our actions.
Don't panic. I believe we all end up questioning the meaning of some days. The truth of the matter is that it is inevitable for us to feel that our lives are mundane or unremarkable. We end up in the dangerous thinking about how our story stacks up against the figures of history, of the saints, and of Joseph: "The saints, they did extraordinary things. I'm just … doing what I do. All I do is go to school or go to work or clean or eat or watch television or read or sleep or any manner of things. My life is normal, boring. Nothing exciting or dramatic happens to me."
When we meet St. Joseph, we hear he is "a just man," (Mt. 1:19). That has been taken to mean Joseph was perfectly just, but, in a sense, this means Joseph was just what an ordinary Jewish man should be. He was normal; Joseph was just a man. A normal, well-intentioned person who desired a life, a salvation which was greater than his everyday experience. Joseph didn't imagine himself being something special. He was suspicious of doing something extraordinary. He didn't believe at first his fiancé was giving birth to the messiah. He probably thought, "me? My wife? That would never happen to me."
A similar thing happens to Jesus in the Gospel when He goes to Nazareth. Though everywhere Jesus went He performed miracles and preached words which opened people's eyes and hearts, in His own hometown, people asked, "Is this not the carpenter's son?" (Mt. 13:55) They didn't believe that the child of a simple carpenter like Joseph, of somebody they knew in their ordinary lives, could be anybody special or from God (let alone be God). The people of Nazareth reacted to Jesus as we so often react to God's action in our lives.
In the Gospels, after the second chapters of Luke and Matthew, we hear nothing of Jesus' life from the age of twelve to the age of thirty. All we get of this time is that "Jesus kept increasing in wisdom and stature, and in favor with God and the people," (Lk. 2:52). These have come to be known as the hidden years of the Holy Family. In this time, Joseph disappears from the Gospel and we get no scriptural hint as to what happens to him. Joseph lives and dies in this silence. His life with Jesus goes largely unspoken; yet these years are surely why we venerate Joseph. Yes, we appreciate that Joseph took in Mary, protected her and Jesus in Egypt, and was the kind of man who honored God's law such that their family would go to Jerusalem where Jesus encountered the Temple and the scriptures from an early age; but we also remember Joseph as foster-father and worker and chaste and humble in all of these forgotten moments, moments too mundane even in the life of Jesus to be mentioned as part of the extraordinary story of salvation revealed to us in the Gospel.
We are a people in our hidden years (at least I assume most of us are). We wake up, carry out our daily responsibilities, go to sleep, and repeat. Perhaps the details of our days do not seem like they are going to be remembered in history and perhaps we lament that we do not have extraordinary moments of witness to the faith like the saints. What we do have, however, are these quiet, extremely important moments. These quiet moments are like Joseph's unspoken days where he lived in such a way that when he was betrothed to Mary, we would call him just; these are the moments where Joseph loved Jesus and taught Him the ways of honoring God, of being a carpenter, of living well and with joy, of caring for others.
Right now, we are being tasked with the daily commitment and fidelity which forms our character, which shapes who we are, which closes us or opens us to love. If one day we are tasked with extraordinary challenges or occasions to witness to the faith, how we live today will shape how we are ready to respond then. We are in the days which seem unredeemed but are exactly what Jesus came to redeem. We are in the time with questionable value, where temptation and doubt can be a daily burden, a daily cross, for which Jesus' death on the Cross effected salvation. Jesus has given value to this time; He has consecrated it and marked it with the promise of love and glory.
As Holy Cross religious, the Cross, especially the hidden daily crosses we each bear, are at the heart of our communities' devotion to the Cross as our only hope. These are the moments we must sanctify, where we must honor God, where we must live well, where we must work for others, where we must witness to love. Joseph, whom we celebrate today, is in effect the patron saint of these hidden years and of their hidden hope. Joseph serves as a reminder for us that our lives have meaning and purpose in relationship with Jesus right now and that, if we are ever to be saints (in Heaven, let alone recognized by the Church), we must live as saints now. Today.
HOW WILL YOU COME CLOSER TO GOD THIS LENT?
---
LENT IS A JOURNEY! WE HOPE YOU WILL LET US HELP YOU AND YOUR FAMILY ON YOUR WAY THIS LENT. PLEASE COME ON OUR "TO THE FOOT OF THE CROSS" FAMILY LENTEN JOURNEY AS WE OFFER YOU SIMPLE ACTIVITIES FOR EACH OF THE 40 DAYS VIA FAMILYROSARY.ORG AND OUR FACEBOOK PAGE.