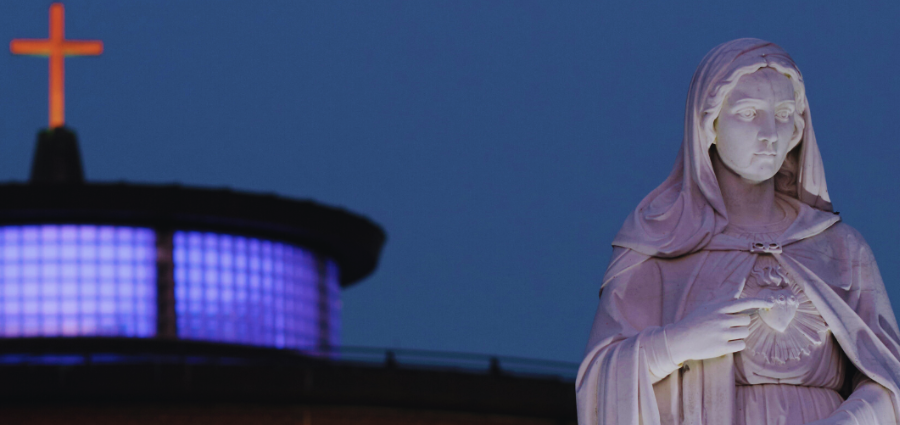 Subscribe
A Walk through the Museum of Family Prayer
museum of family prayer | Family Fun | Catholic Art
Over fifteen years ago, a friend invited me to Rosary and Mass at The Father Peyton Center in North Easton, Massachusetts. En route, she recounted the remarkable life of a holy man, devoted to the Blessed Mother, with an almost single-minded desire to help families pray together, especially the Rosary. It would be the first time I heard the message of Father Patrick Peyton, C.S.C., "The family that prays together stays together."

After that initial visit, I often returned to the Father Peyton Center, now the home of the Museum of Family Prayer: A Contemporary Experience of Father Peyton's Ministry, for Mass, to spend time praying on the Rosary walk and quietly sitting reciting the Rosary by his grave. My family and I have attended many extraordinary events hosted by Holy Cross Family Ministries, and I have lost count of the number of blessings my family has received from our time there.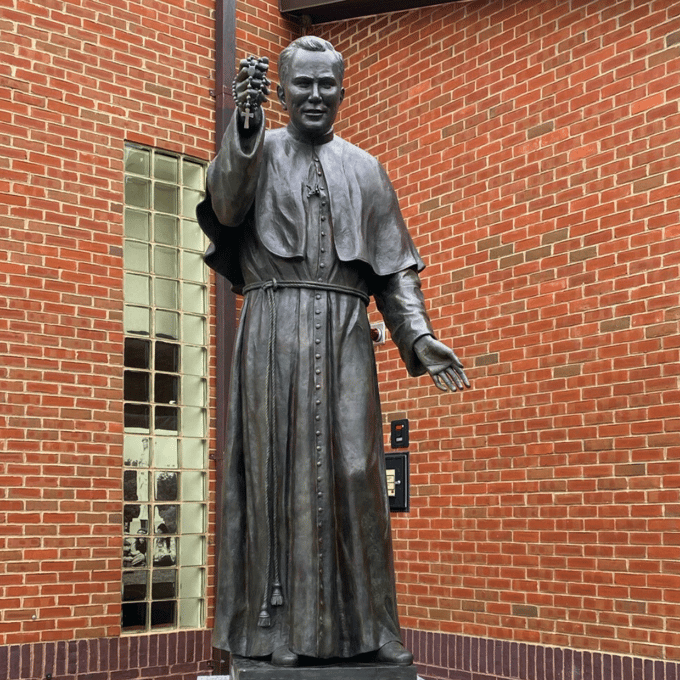 I could never have imagined while first sitting in the beautiful, quaint chapel, that one day I would be part of the dedicated staff continuing Father Peyton's work. It is truly an honor to be part of the remarkable team continuing the work of this humble Irish priest of the Congregation of Holy Cross. A devout and passionate man of faith, whom we pray, will someday be the Patron Saint of Family Prayer.
Life and Legacy
Please join me on a virtual tour through the Museum of Family Prayer; I pray one day you will be able to enjoy a visit in person, especially with your family, to experience this unique, inspiring place.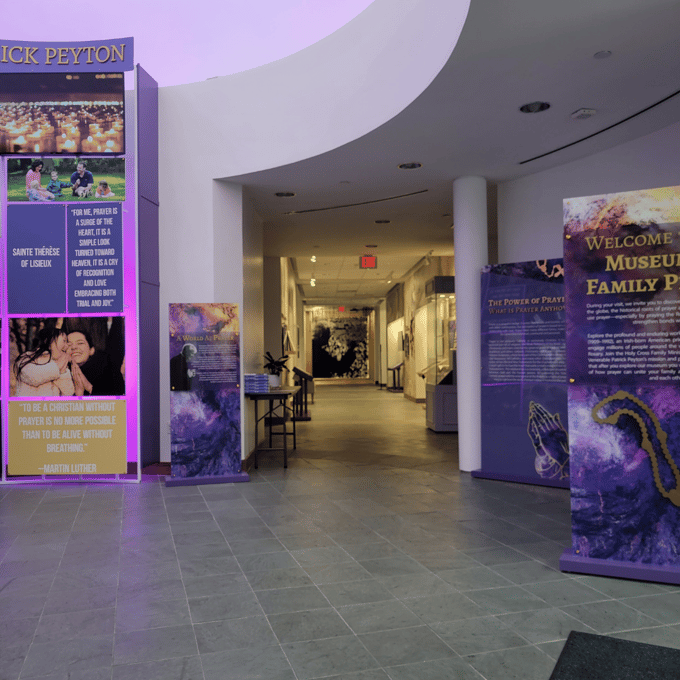 Patrick Peyton came to the United States to chase the American dream with his brother, Tom. However, God had even better plans for their lives—as both would become priests of the Congregation of Holy Cross. A solid foundation of faith allowed them to be open to God's plans; imparted in large part by going to their knees every evening as a family praying the Rosary in their home in Ireland. Before the patriarch of the Peyton family would give their trip to America his blessing, he asked the brothers to "Go down on your knees and make me a promise here before the picture of the Sacred Heart. From now on there will be nobody but yourself to advise you and to decide for you. But your first responsibility will always be to save your soul, and so I want you to promise to be faithful to Our Lord in America."
While working as a sexton at the cathedral in Scranton, Pennsylvania, Patrick's heart began to stir with a call to the priesthood. The young Peyton desired to be a missionary priest, which drew him to join the Congregation of Holy Cross. His path, however, was not to be a straight one to the priesthood. He contracted tuberculosis, his prognosis was grim, and he lay in the infirmary, unable to study or continue his priestly journey. In October 1939, the doctors offered Patrick two options: a risky surgery with little hope for success or simply to pray. Father Cornelius Hagerty, C.S.C. visits, reminding Patrick, "You have the faith, Pat," he said, "but you're not using it. You brought it with you from Ireland. Your mother gave it to you, just as her mother had given it to her."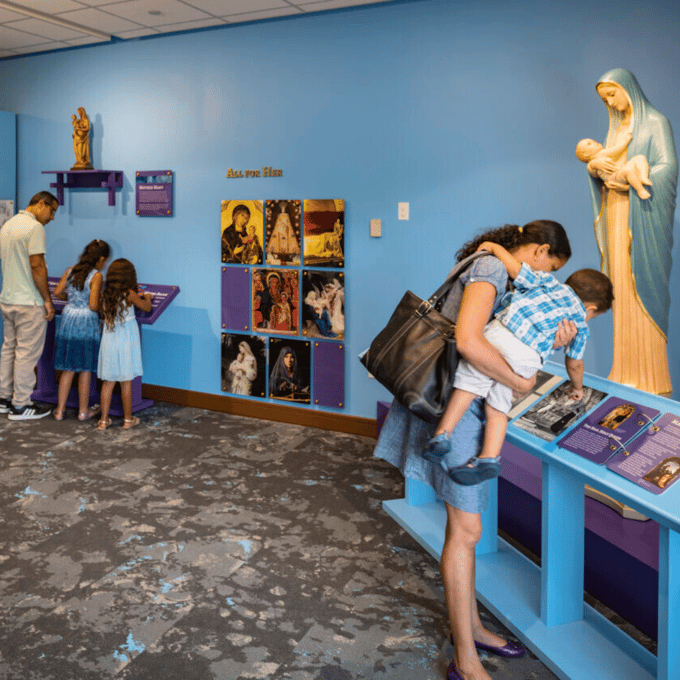 Father Peyton would experience a truly remarkable and miraculous recovery from tuberculosis; after this, his devotion to Mary, already an integral part of who he was, became his life's work and where he would genuinely become a missionary. As his autobiography is aptly titled, his life would become "All for Her."
The Museum Tells a Story
Along your journey through the museum, you will discover a striking statue of the Blessed Virgin Mary. Father Peyton borrowed this statue from Benziger's religious goods store to remedy a bare-looking Broadway Theater he was visiting to broadcast a radio program in 1945. The brilliantly blue, magnificent figure of the Blessed Mother never made it back to Benziger's. Father Peyton brought it with him to Albany, where it remained in the office of Family Rosary. That radio program, for the record, became a hit across America, launching Father Peyton onto the national and international stage—establishing him as the "Rosary Priest."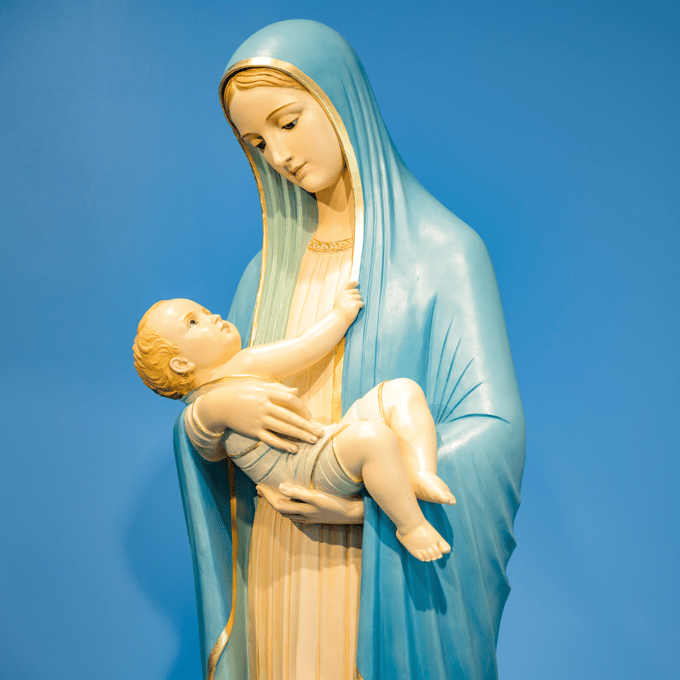 Father Peyton recognized the opportunities presented in his lifetime for new means of evangelization, especially devotion to the Rosary, through radio airwaves and, later, the small and large screens of television and movies. In 1945, he convinced the Mutual Broadcasting System, the largest radio network in the United States at that time, to give him a half-hour of airtime to broadcast the Rosary. Successfully landing this valuable means of reaching into so many families' homes was described by Father Peyton as "the opportunity of a lifetime."
The section of the museum dedicated to Father Peyton's time in Hollywood, and the development of Family Theater, born from his passion to bring the Rosary to the largest possible audience, is filled with Golden Age celebrities and fascinating memorabilia. One can't help but smile at the images of Father Peyton with the likes of Loretta Young and Bing Crosby, a testimony to what prayer and the intercession of the Blessed Mother can do.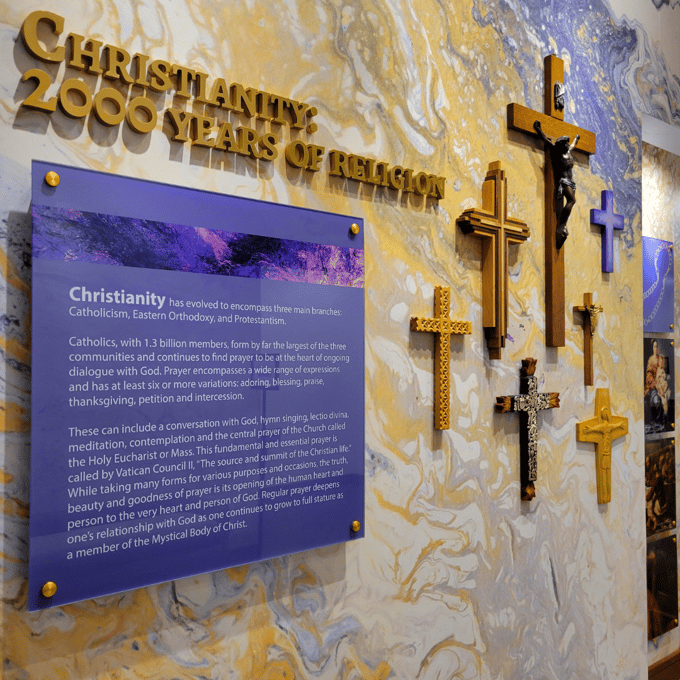 The Rosary's Reach
Visitors to the Museum of Family Prayer enjoy a "front-row seat" to some of Father Peyton's impassioned speeches for some of the over 260 Rosary rallies he held worldwide. Be immersed in these poignant moments projected on the museum wall. Soak up the exhorting words of Father Peyton to families to pick up their Rosaries and pray—to strengthen marriages, families, and the world, seeing the Rosary as a means for peace in our hearts, homes, and world, and reminding those listening that, "A world at prayer is a world at peace."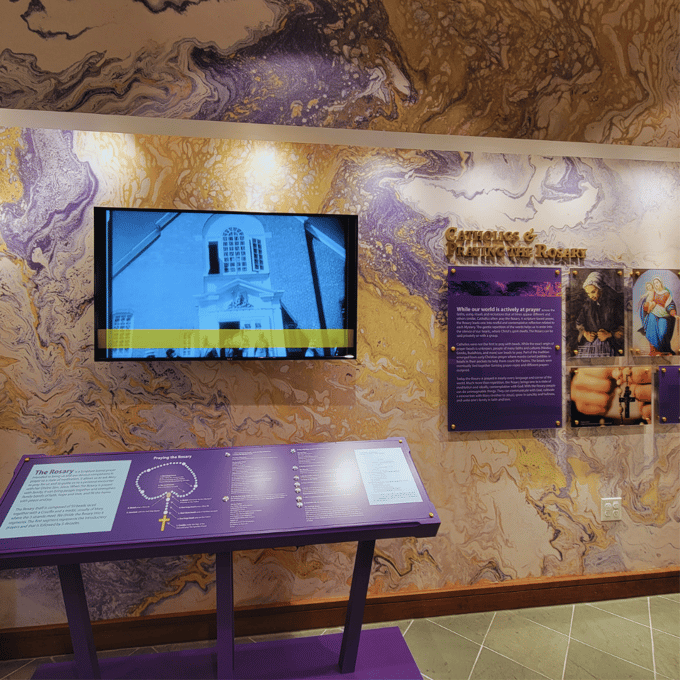 As the museum tour winds down, guests learn that in 2001, the cause for the canonization of Fr. Peyton as a saint was opened in the Fall River Diocese. First proclaimed Servant of God, Pope Francis proclaimed him Venerable on December 18, 2017. Visitors can even take a "pilgrimage" over to the cemetery where Father Peyton is buried—you'll recognize his gravestone from the plethora of rosaries strewn atop it. However, before you leave the museum, be sure to spend time interacting with the fascinating video displays of the numerous testimonies of prayer, family prayer, and of course, the Rosary.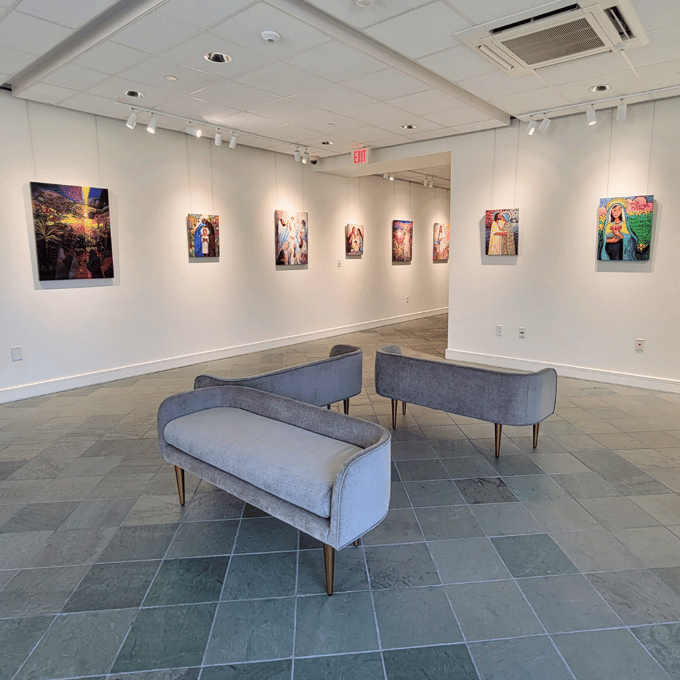 Newly Added Feature
In September 2023, the Faith Gallery, a new rotating art gallery was installed. The inaugural exhibit was aptly entitled, "Behold Your Mother." Described as "a vibrant, yet contemplative exhibit of the Blessed Mother," and featured a special collected by renowned artist, Jen Norton. It will be available to view until December 9, 2023. This beautiful addition, along with the children's activity room, and the variety of exhibits throughout the museum, make the Museum of Family Prayer a unique, inspirational activity the entire family will enjoy.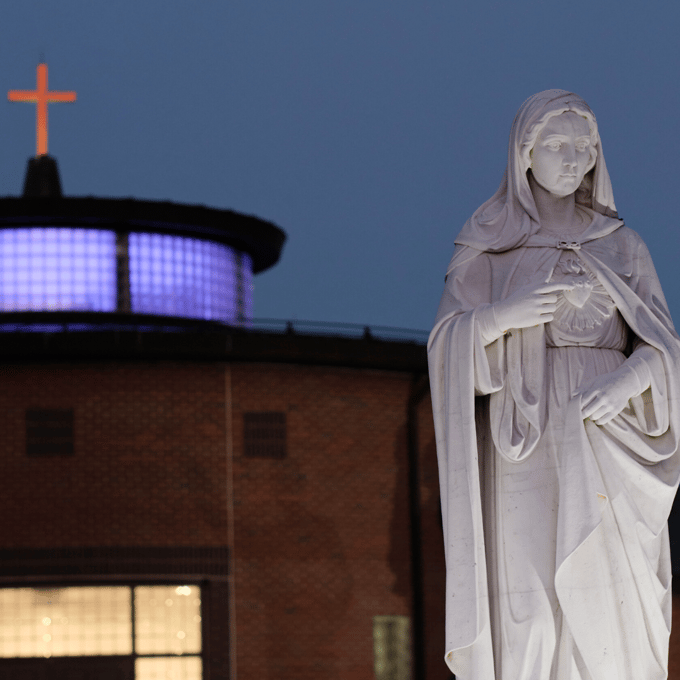 To learn more, or plan your visit to the Museum of Family Prayer, please visit MuseumofFamilyPrayer.org