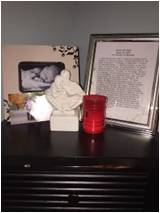 When Daisy was 2 years old, she often put her pacifier on the prayer table on her way to eat since it was placed between the living and dining rooms. Her mother Julie continually told her that she couldn't put it there until she was ready to give it to the Baby Jesus. That always made Daisy reclaim it. One morning Julie came down the stairs and saw Daisy put the pacifier on the prayer table as usual but this time she turned and said, "I don't need it anymore but Baby Jesus likes it." She never went for it again.
A family altar or prayer table is a place in the house where all the family knows is special. It might have a crucifix, a statue, an Icon, Rosary, candle, a copy of wedding vows, perhaps a photo, and sometimes something a loved one made or owned like a scarf. It doesn't need to be in an area where guests visit but it's most important that everyone in the family has access to it. Sometimes families gather around to pray, other times individuals, but it is always a reminder of God's presence and love.
As a teenager, unaware of such a practice, I created my own prayer table. Grandma had embroidered a dresser scarf years before and I used that to cover my mom's cedar chest which was at the foot of my bed. Then I put a statue of Mary on it that had a box for a rosary which lit up Mary and played Ave Maria when it was opened. It was that simple, but whenever I was having difficult times I would go in my room and pray my rosary in front of it and listened to the music.
This is very similar to the day Valerie observed her 17 year old son standing before their family altar. He stood quite still for several minutes and then touched the crucifix. So much is going on in an adolescent's world and yet he would have been mortified if he knew he had been observed praying.
After hearing a talk on the family altar, Zak went home and told his family about it. He found the perfect place to create their own in an alcove just outside their family room. Each one went to find something they would like to place on it. They started with a baby afghan both children had used, to cover the table. Then was added a First Holy Communion statue of the Sacred Heart, a picture of the Holy family one of the children had torn from a book, and a rosary which had belonged to a favorite aunt. When they gathered around, they were surprised to see that Zak had placed a framed Father's Day card from their 4 year old which said, "I love you Daddy". With tears in his eyes Zak said, " I want to see this every day as I leave for work so I never forget how much I love each of you and that God keeps you in His care."
Read More