There are exciting and interesting events taking place in Rome over the next two weeks.
Pope Francis opened the Synod on the Family with a Mass on Sunday, October 5th, at the Vatican Basilica. He and the Bishops/Cardinals are gathering to meet with representatives of families from all over the world.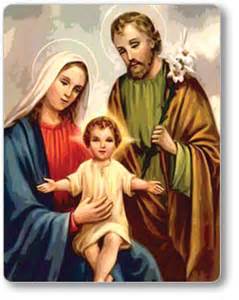 These meetings will give all participating an opportunity to reflect, pray and discuss what families are encountering in all aspects of life today. We, here at Holy Cross Family Ministries, are watching the Synod deliberations closely. We believe very strongly that the family that prays together stays together, a message our founder, Servant of God Patrick Peyton, C.S.C, made known throughout the world many years ago.
Today, in our world, in our society and in our Church, the spiritual well-being of families is being attacked by violence, poverty, abuses and the lack of faith and belief in God. Father Peyton's message is still very important and inspiring for us today.
During these next two weeks I invite you to join us at the Father Peyton Center when we gather to pray the Rosary at 11:30 am and Mass at noon each day, Monday through Friday.
If you are not able to join us in person, I invite you to submit your prayer intention for the Synod and for families on our website so we can pray together.
If you are interested in following the meetings and receiving daily highlights from the Synod, I invite you to visit Salt and Light TV and click on Synod.
Please join us in our prayer that Servant of God Patrick Peyton and Mary guide those present at the Synod … that the sacred gift of family life may be strengthened through this experience … and that all families grow in their love for the Lord and each other.
And may God bless your family!
Watch this video to learn more about what a synod is and how it works:
Video: https://www.youtube.com/watch?v=_Z8h7ap2jrQ
Read More