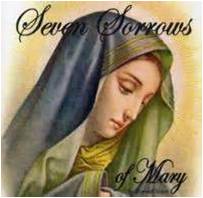 Years ago I read a poem in which one line said something like, "Our happiest moments with some remorse are spent." Even though I don't remember the poet or the poem, this line has always hit home when I pray the Joyful Mysteries of the Rosary.
From my life experience as well as from reading the Gospel, I know that as wonderful as an event may be, we cannot possibly live in the glory of that high for long. Sometimes I have thought it is just because we can hardly tolerate such joy yet I know that life moves along.
There was the Transfiguration and there was the Crucifixion. There was the joy of Jesus birth but it was in a barn.
During this Lent, I plan to write about the Seven Sorrowful Mysteries. There is a particular Rosary for these Mysteries. You can find it online at the Catholic Company and for all the prayers and reflections, you can find them in the book The Seven Sorrows of Mary by Brother Joel Giallanza, C.S.C., which can be purchased at our online store.
For this Rosary one starts off with An Act of Contrition. Next we say Three Hail Mary's. On each medallion or "Our Father" bead we meditate on each Mystery in turn and then pray the Our Father. Then we proceed with seven Hail Mary's. You can conclude the Rosary with, "Mary, conceived without sin, pray for us who recourse to thee."
The Mysteries are as follows:
The Prophesy of Simeon when Mary and Joseph take Jesus to the temple for the Presentation. (Lk 2:22-35
The Flight into Egypt. (Mt 2:13-15)
The Loss of Jesus in the temple. (Lk 2:41-52)
Mary Meets Jesus on the way to Calvary. (Lk 23:27-31)
Mary stands at the foot of the cross. (Jn 19:25-27)
Mary receives the dead body of Jesus in her arms. (Jn 19:38-40)
Jesus is placed in the tomb. (Jn 19:41-42)
In my next blog I will be pondering the first of these Mysteries.
Read More