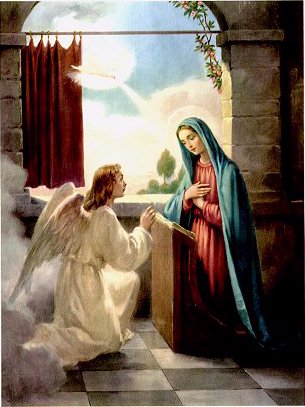 What was the young Mary thinking about when the Angel Gabriel came to her?
Most of us probably imagine her in quiet prayer. We can't be sure of that but I am sure that whether she was seated in silence or not, her heart was at prayer.
Maybe she was concerned about her aging mother or a neighbor with serious problems. We can't know the specifics but I am sure that her heart was full of longing that the Lord would fulfill His promises to His people. Her heart was also full of profound faith and hope that He would do so.
Then the Angel came with God's message, she said yes, and the Word was made flesh in her.
When we study the text of the Gospel of Saint Luke, we see there are many references there to Old Testament verses so as to let us see that Mary is our representative … and a symbol of the faith of the people of God.
So we can see ourselves in her. We can put ourselves in the scene in a real way. Whatever may be my prayer or whatever is heavy on my heart, I can put it in Mary's Heart. Along with my concern, I can share then, her profound faith and hope.
I am also sure that Our Lord intends for us to do this – and that Mother Mary loves it when we do!
When we do, we can let the Word of God be born in us too!
Holy Mother of God, pray for us.
Read More