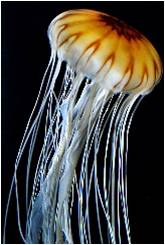 Last week my husband and I celebrated our wedding anniversary by spending time together in Maine. We had wonderful weather and enjoyed so much of the beauty together. We also had time alone. During my time, walking on a seemingly endless beach, I took in the entire picture; birds flying and calling, the waves lapping at my feet, people walking alone or as couples, and the endless sea topped off by equally endless clouds.
I reflected on Anne Morrow Lindbergh's, Gift From the Sea. In her introductory chapter she writes, "To dig for treasures shows not only impatience and greed, but lack of faith. Patience, patience, patience is what the sea teaches. Patience and faith. One should lie empty, open, choiceless as a beach - waiting for a gift from the sea."
After years of hunting for shells, rocks, and ocean glass, I was finally open to the magnificence of all as the gift of the moment. Then, just as I was getting ready to end my walk, a couple called to me. There in the surf was a jelly fish the size of a basketball. It laid there brown with designs of gold enhanced by the sun with the partial dome of clearness over it. We weren't sure if it was alive or dead so we kept a distance even as the three of us merely marveled in silence, together. Then as we each prepared to go our own way, a wave came in, the jelly fish rose up, its tentacles came out and off it went.
This was indeed a gift, totally unexpected and completely unanticipated. I like to call these moments occasions of grace. They call for an openness to the moment; an awareness of beauty, the ability to be present in silence and without an agenda.
This is the way I want to be in the world, open to the gifts and moments freely given to me when I am not tied up in my own expectations; living in the awareness of grace freely given and always abounding.
Click to edit your new post...
Read More