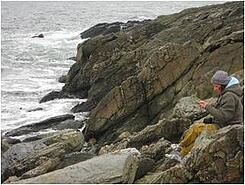 In the Easter reading about Thomas, he would not believe the other apostles when they told him Jesus had been to visit them after the resurrection. Not only would he not believe if he saw Jesus himself, he would have to put his hands in the wounds if he would believe. (John 20: 24-29)
This is in such stark contrast with where we are today in our relationships. This technical age allows us to be in touch with anyone at any time. But is this always for the best?
One night my husband and I went out to dinner. A couple came in and sat at the table next to us. As they entered, the man finished up a conversation on his cell phone … but the woman continued talking on hers. They sat down, looked at the menu, the waitress came, the woman lowered the phone and ordered. The food came, they ate, and she continued texting and talking, one right after the other. The man stared at her from time to time or into space. Occasionally, he spoke to her and she rose her head and answered … but went right on texting and eating. As he paid the bill, she put her phone down and they left.
A man I know will spend most of the day texting his son, but when his son actually arrives, he greets him and immediately begins texting someone else.
Now I too love the feeling of immediate gratification of connection. At the same time, I still recognize what I am giving up when I'm not present to the person with me. (Though sometimes it's difficult because they are busy texting!) Our youngest members of society seem to have been born with cell phones in their hands but the rest of us weren't. We have acquired the ability and have developed a new habit.
Perhaps we need to evaluate this habit from time to time. How much better does it feel to really be present with a person in the flesh; how special the time and ability to share from the heart. Are we letting these occasions go? Are we missing the beauty around us? And are we assisting others to do the same? What are we giving up?
These devises certainly make life easier in many ways but they do not allow for depth. As we think about Thomas, did his very doubts which made him memorable not leave us an example of presence as well?
Read More