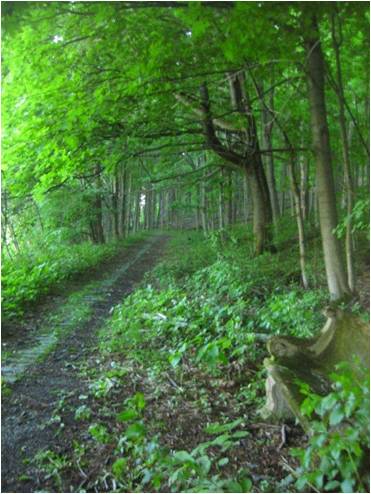 When I first came to Bennington, I met Lois at work. She was a wirily little lady and an avid hiker who spent every break and lunch period walking so we became great companions. One day she took me up to the campus of Southern Vermont College. As we began walking down a path she said, "This is the Rosary walk". Since I knew Lois had no religious affiliation, I was surprised by her remark and asked how it came to be labeled. She said that at one point this was a monastery of some sort and the priests used to say their Rosaries here. Later, I came to find that the Holy Cross priests had their novitiate at this site in the 1960s.
My niece was born and raised Baptist yet she tells me that when something is troubling her, she goes to a Catholic church … not for the services but for the quiet. She says it's the only place where she feels this special silence that helps her to know she is not alone. Of course, I feel that way too. I picture years and years of prayers going up in these sacred places; hearts filled with joy at weddings and Baptisms, souls filled with the pain of loss or illness. All this prayerful energy fills up the space where Jesus abides in the Blessed Sacrament.
It calls to mind that as a teenager, I had a Rosary music box which I put on an old trunk in a corner of my room. At night I would often kneel and pray the Rosary as the music box played Ave Maria … my own little altar.
This is rather how I feel about Rosary Path which my husband and I visit fairly often these days. Whether or not the young priests prayed their Rosaries here, I don't know. What I do know is that as often as I walk this path,
I feel a quiet presence and I know it is a sacred place
just like I knew my corner altar was my sacred space those many years ago and I know as well that the little altar in our guest room is our sacred space in our home today.
Read More