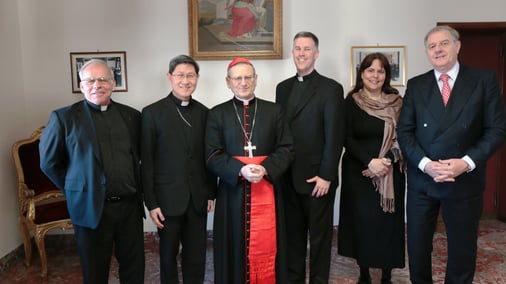 With Father Willy are Cardinal Angelo Amato, Prefect of the Congregation of the Causes of Saints; Cardinal Luis Antonio Tagle, Archbishop of Manila, Philippines; Nina, staff person in the Postulator's office; Dr. Andrea Ambrossi, Postulator;
and Father David Marcham, Vice Postulator.
This was a historic week for Holy Cross Family Ministries. We travelled to Rome to present the "Positio" of Servant of God Patrick Peyton's cause to Cardinal Amato, Prefect of the Congregation for the Causes of Saints.
Father David Marcham and I were accompanied by Cardinal Luis Antonio Tagle of Manila, the Philippines. Cardinal Tagle is a "Rock Star" in the Catholic world. Someone has claimed that he received a number of votes in the balloting for the election of Pope Francis in 2013. Like Pope Francis, he loves Mary and the Rosary and is a passionate exemplar of Gospel simplicity in his words and in his modest style of life.
Please join us in praying for the Cause of Father Peyton. He would be an ideal saint for families.
Read More